DE officials kick off beach pedestrian safety campaign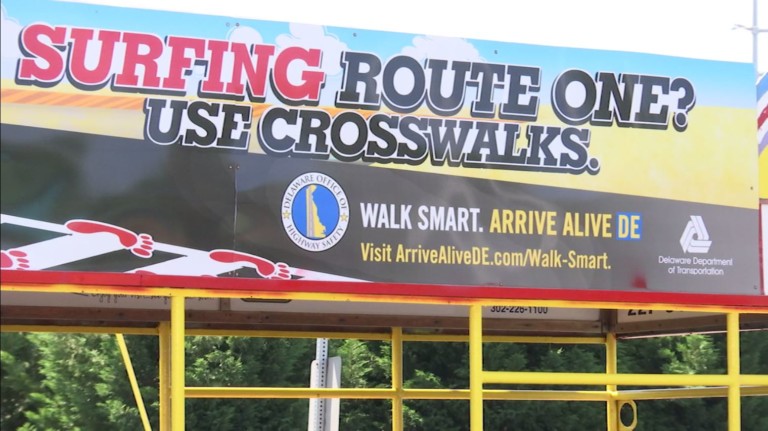 It's the start of the beach season on Delmarva, which means thousands will flock to Delaware beaches for some fun in the sun.
Unfortunately, that fun can be cut short when safety isn't a top priority for pedestrians, drivers, even bicyclists.
Delaware's Office of Highway Safety Director Jana Simpler explains, "Overall in 2017 we lost 34 pedestrians. That was seven more than were lost in 2016. Every one of those is a brother, a sister, a parent, a grandparent a sibling, a friend."
That's why the Office of Highway Safety is kicking off a campaign geared towards lowering those fatalities through enforcement, education, and outreach.
"We're concerned about the number of pedestrian fatalities that we have had in the past years, as you mentioned, we have had a pedestrian death south of Dewey Beach," Simpler continues, "It will include enforcement so we're working with all our law enforcement agencies in the beach area as well as Delaware State Police, Dover Police and Wilmington Police Departments and they are going to be doing overtime enforcement. Typically two man, two woman teams in order to engage with pedestrians to ensure they are using safe pedestrian habits in order to get from point A to point B safely"
They're stressing simple steps for pedestrians to stay safe like look both ways before crossing the street and wear reflector gear.
"It's things that we've heard since we were in elementary school. It's things like using crosswalks, using a flashlight in low light conditions, wearing bright clothing so you're more visible," says Simpler.
Rehoboth Beach Police Chief Keith Banks adds, "Don't be covered up in dark clothes. Don't think motorists can see you just because you are in the middle of a crosswalk."
It's an initiative local beach goers hope is enforced not just this summer, but every summer.
One visitor saying, "I think it's an excellent idea. Anything to keep our children safe I'm all for, absolutely."
"I think it's a great idea, protect the person possibly a child and then prevent a messy accident from happening. I think it's great," explains another beach goer.
Street teams made up of people in bright colored shirts will also be heading out into the beach communities handing out reflective gear and giving pedestrians safety tips.
But it's not just about how pedestrians can remain safe crossing roadways, bicyclists and drivers on the roadway also play big roles to ensure safety.
Chief Banks tells 47 ABC that it's crucial for bicyclists to follow the rules of the road.
"You want to ride with the flow of traffic, yield to pedestrians just like a car would that's in a roadway because we have seen where bicyclists and pedestrians have collided. It's not just always a motor vehicle."
It's not just riding with the flow of the traffic that's important, but it's making sure you have reflective gear on your bike or yourself and actually stopping at red lights like any car would.