MDTA: E-ZPass transponders to be offered for free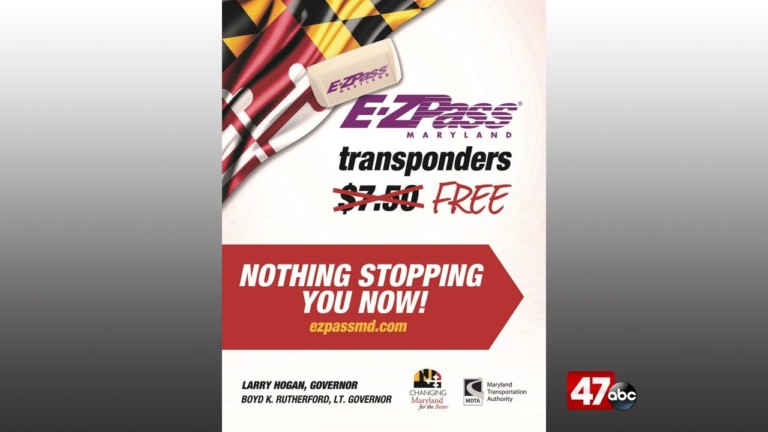 Transportation officials say E-Z Pass transponders will be offered free of charge in Maryland.
On Wednesday, Governor Larry Hogan announced that the Maryland Transportation Authority (MDTA) will permanently eliminate the $7.50 E-Z Pass Maryland transponder fee for all new customers.
Officials say transportation authorities will replace aged transponders that are currently in circulation at no cost to customers. Officials say if anyone bought a transponder in 2018, a credit of $7.50 as long as the account is registered and in good standing. Customers who bought a transponder this calendar year will see the $7.50 credit on their accounts in the next several weeks.
According to the Associated Press (AP), at the Chesapeake Bay Bridge, the savings increases to 37.5 percent, with E-ZPass customers paying $2.50, compared to $4 for a driver using cash.
According to MDTA, free transponders eliminate $6 million in fees and provide new E-ZPass Maryland customers $40 million in toll discounts over the next five years.
Gov. Hogan says, "Today, we continue moving forward with a commitment to provide relief for Maryland taxpayers by putting an additional $46 million back into the pockets of hardworking middle class families, retirees, and small businesses – and back into our growing economy. Three years ago I stood here at this very spot and began a statewide toll cut that started with $270 million – the first time tolls had been cut in Maryland in 50 years – and with today's transponder fee elimination, we have now cut taxes, tolls, and fees by over $1.2 billion in the last four years."
For more information, visit the MDTA website, contact E-ZPass customer service.