Local high school golfer makes history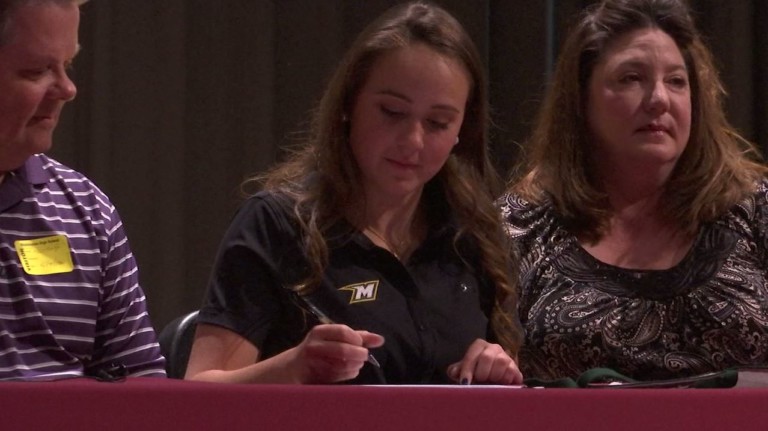 No mulligans are needed for senior golfer, Zoey Nichols. The senior from Washington High School in Princess Anne is making school history.
"After practice I would go to the range and hit a bucket of balls and just doing that repetitively and really just keeping my mind in it," says Nichols.
Her determination, belief, and preference finally paying off at just the right time. After four years of hitting more shanks than hole in ones, everything would fall into place and in her senior season, she qualified for state.
Nichols remembers the news, "Oh my goodness, I don't even know how to describe it."
The ultimate hole in one that her high school coach had been waiting for since the first day she walked into practice her freshman year.
"I was just so proud of her. I mean she fought and she made it and I think all of us just grabbed her, hugged her lifted her up. I think I did a small lap with her on my shoulder because I was just so proud," says William Knopf, Zoey's golf coach.
And her performance at state carried her to bigger and better things. It gave her an opportunity to play at the collegiate level.
Nichols is the first first female golfer from Washington High to make it to the next level. A new challenge that she never even thought was possible.
"It was beyond frustrating my freshman, sophomore, even my junior year. It's one of the most frustrating but like rewarding sports, so you just have to keep working at it. It's patience, it's a lot of patience."
Knopf saying, "She was feisty. She didn't take any stuff from the boys so I knew she was going to be good."
And it was his constant support and belief in Zoey that helped her break through.
"He helped me realize what I'm capable of. He pushed me, he knew I could do it even when I didn't know I could do it."
Zoey fresh off an ace is prepared to build on her legacy and leave a path for others to follow.
"I think she's going to show girls that you can not only play with the boys but you can beat the boys."
Nichols says, "I want people to believe in themselves and think they can do greater things too."
And not only is she a winner on the golf course, but in the classroom and out on the softball field as well.
Zoey tells 47 ABC she's excited to begin studying kinesiology at McDaniels College and see where golf takes her.