A mother's Facebook plea helps put a sex offender back behind bars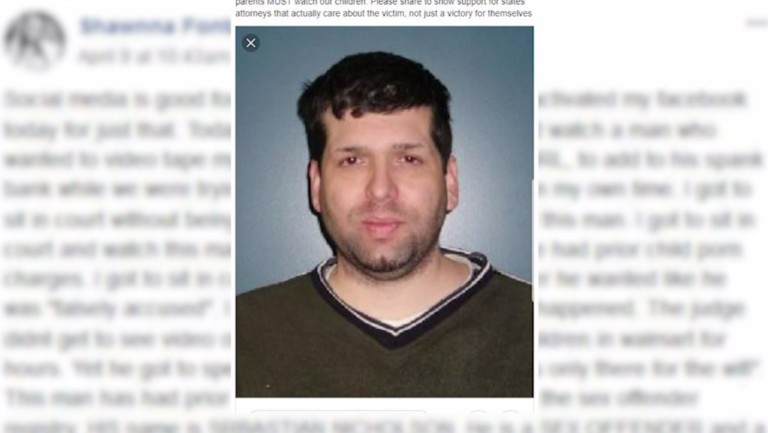 "I really wish I just handed out justice myself. But instead I am requesting that you SHARE THIS POST and STUDY THIS MANS FACE because he is back out in the public where he will likely target more innocent CHILDREN."
These are the words of Shawnna Fontaine, part of a larger message that called attention to the case of 35-year-old Sebastian Nicholson, a registered sex offender and the man accused of stalking her 5-year-old daughter and the lack of time he served behind bars.
A post that has now been shared over 900 times and caught the attention of local law enforcement officials at a critical time.
"I got a call actually several calls and a couple text messages from people who worked over in the courthouse and said 'hey you got to look at Facebook, I know we have Mr. Nicholson coming up for this violation of probation'," says Worcester State's Attorney Bill McDermott.
The incident with Nicholson and Fontaine's daughter happened at the Fruitland Wal-Mart back in August of 2017. When it came time to face a judge, he pleaded guilty to fraud receiving credit for 226 days time served and getting to return to the outside world.
That is until he had a costly mis-step, violating his probation in Worcester County.
"I would tell you that Facebook has a purpose, has a use and was in large part, part of the tools by which we were able to prosecute Mr. Nicholson," explains McDermott.
In the end Fontaine got the justice she craved and the shot she wanted. A chance to testify against Nicholson during his violation of probation case. Testimony that according to McDermott made a difference.
"It was her humanity, it was her talking about going into a store and being followed by a child predator that I think drove this story home to Judge Bloxom."
The judge would end up giving Nicholson a stiff sentence, 3 years and 8 months. A sentence Fontaine says restored her faith in the justice system.
47 ABC got in touch with Shawnna, who says she hopes this serves an example for parents and a reminder to always stay vigilant and watch their children in public places because unfortunately predators like Nicholson do exist.
She also says this experience opened her eyes to the rights that victims have in court.