Walking in Harriet Tubman's footsteps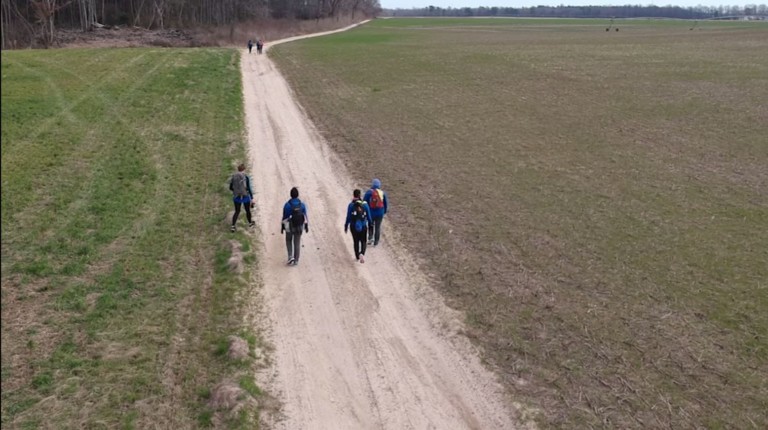 Ten women, five days, one mission: to walk 100 miles of the Underground Railroad here on the Eastern Shore of Maryland just as Harriet Tubman did.
Each step is a step forward towards a healthier life and a greater purpose, but each stride is also a step back in history as these women follow the path of Harriet Tubman.
"We believe Harriet Tubman is an amazing example for women, for black women in particular, in our communities on how to move forward," says GirlTrek Co-Founder Vanessa Garrison.
That's why these women set out on the five day trek, to complete a 100 mile journey.
100 miles that Harriet Tubman herself walked many times over a century ago when she escaped slavery using what would become the underground railroad.
Starting in East New Market, Maryland and traveling all the way up to Wilmington, Delaware. It's an arduous journey, but one these women feel is necessary.
"I mean she's the greatest American hero and so we wanted to walk in her footsteps because we feel like the problems we're facing now are as epic. The problems with inner cities, problems with our health, the problems with all sorts of things that seem insurmountable. We know that's not the case because there's a woman named Harriet Tubman who showed us a pathway to change," explains T. Morgan Dixon, co-founder of GirlTrek.
The women behind the trek, the founders of the health non-profit GirlTrek. Their mission is to reduce the leading causes of preventable death among African American women and build communities in the process one step at a time.
It's a mission that's even inspired a local chapter to form in Cambridge.
"We're going to walk the first mile and then they are going to go the next 99 without us, but we're just going to walk with them to show our support, boost them on, and pray for them," exclaims Dormaim Green, organizer for GirlTrek Cambridge.
These empowered women hope to inspire others to get on board, to get active, and begin making change just as Harriet Tubman did.
"We believe women are a solution to so many problems plaguing our communities and so when women walk first for their own personal health, but then they bring their families, their daughters, their mothers, their sisters then they walk in community," says Morgan Dixon.
GirlTrek is hoping this journey will kick start a year of women taking action and being active. Their goal is to get one million women walking by the end of this year.
So far they have 125,000 African American women and girls across the country who have all joined.
GirlTrek believes when women get active even by just doing one walk a day that it can prompt change in their families and communities.
Over the next 12 months they will be rolling out program, meeting women in their communities and providing them the support to get active.
"Our biggest goal is to get women walking. So if you are listening to this right now and you are feeling down, you are feeling sad, you are feeling alone, you are feeling unhealthy or maybe you just need sisters, we invite you. Walk with us, just walk five days a week, 30 minutes a day and if you can't do that then start by walking on Saturdays," says Morgan Dixon.