Heart of a Viking: Isiah Taylor's story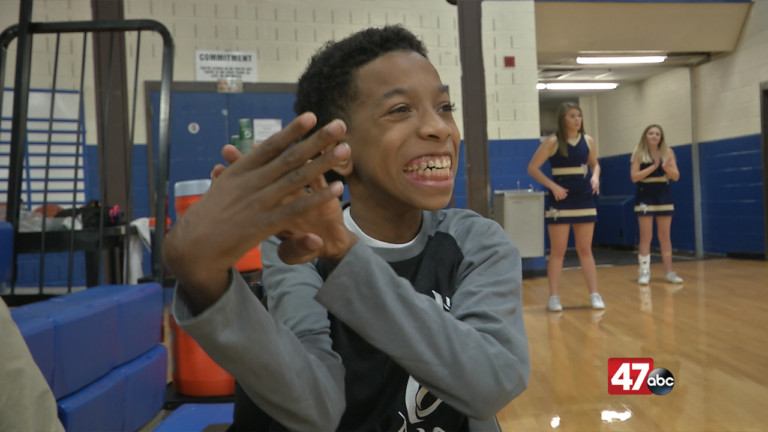 For many, playing the game of basketball is a blessing. Being able to lace up and hit the hardwood is something that high schoolers look forward to every winter. But, for Cambridge-South Dorchester freshman Isiah Taylor, the way he gets involved is a little different.
"Until he was four years old, he was doing things a normal child would do. Then from the age of 5-6, that's when he started walking on his tiptoes," said Isiah's father Davonte Smith. "Then we saw developments of yeah, we have to get this checked out and that's when it started getting worse."
Serving a team manager for both the boys and girls basketball teams, he suffers from a rare aggressive, degenerative mitochondrial disease that doctors have been struggling to pinpoint; only being able to best describe it as a form of cerebral palsy.
"It doesn't do anything to his mental aspect. He's very smart, he can answer anything you ask him, it's just a disorder with his muscles that's all," Smith added.
Having to talk through an iPad, he hasn't lost his ability to communicate, especially about his love of the game.
"It's fun to help the teams win. I like to help the teams be successful," Taylor said through a computerized voice on his tablet. "It means working as apart of a team. It helps me because it helps me stay motivated in school."
When he enters the gym, his energy and smile just light up the room. A smile that can't help but be contagious to others.
"He's always happy." Cambridge boys junior varsity Head Coach Tom Frazier said. "There's no other reason for us not to because his plate is different from ours, and if he can be happy, why can't we?"
CSD varsity girls head coach Bruce Springer chimed in as well. "What's he smiling about? He's always happy, he's always happy and that just lightens the whole mood."
And when asked about Isiah's most magical feature, it was simple for junior guard Keshawn Potter. "His smile, yeah. Gets us going all the time."
For Isiah, he's hoping that his job right now can lead to a spot on a different bench, one with the pros he looks up to.
"Lebron James is my favorite athlete because he dunks on people and can shoot three-pointers," Isiah said. "I look up to Tyronn Lue because I want to be a coach when I get older."
He may be on the sidelines, but he'll always have that heart of a Viking.