The government shutdown's impact on Assateague Island National Seashore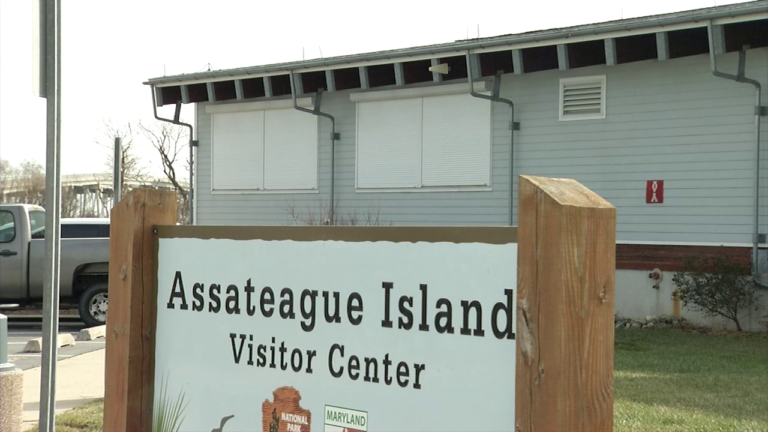 Whether you are still basking in the glow of an Eagles win or recovering from a relaxing weekend at the beach, your Saturday and Sunday were probably better than the Saturday and Sunday of the men and women in Washington who spent most of the weekend under fire.
On Friday night, the Federal Government was shut down, and since then Democrats and Republicans have spent a significant amount of time criticizing each other.
While they fired shots, Americans felt the affects of their inability to come together.
Assateague Island National Seashore looked a little different Friday than it did last week, and it's all because of the shutdown.
The Visitor Center was shuttered, and campground offices were out of commission.
Visitor Marsha Morris said, "There was no one there and they had a sign just saying why there was no one there, [it was] because the Federal Government shut down."
In a statement, Liz Davis, the Chief of Interpretation with Assateague Island National Seashore said, "There will be no NPS-provided visitor services at Assateague Island National Seashore, including public information, restrooms, trash collection, and facilities and roads maintenance." She added, "Because of the Federal Government shut down, NPS social media and websites are not being monitored or updated and may not reflect current conditions. All park programs have been canceled."
Despite a lack of staffing, the park did remain accessible to visitors.
Delegate Mary Beth Carozza, (R-38C) said, "Folks still have access to the National Park, but it's kind of under your own guidance, that's my understanding."
Plenty of locals made the most of an unfortunate situation by taking advantage of the free park.
Morris said, "Yes. With the grandkids, we're going to just go walk on the beach for a little bit and then leave. We're going to have lunch on the beach for a little bit and see if we can find some ponies somewhere."
Unless the Federal Government comes to a long term compromise on spending, the future operations of Assateague Island National Seashore remain uncertain.
The Assateague State Park is still open for business as usual, however.
There is some positive news out of D.C., the Senate has reached an agreement on a deal that could keep the Federal Government funded through February 8th.
Democrats lifted their blockade on legislation that was crafted at the deadline after GOP leaders agreed to begin debating an immigration bill by the newly proposed February 8th deadline.