Deputies: Heroin, 12-gauge shotgun, guns found in Cambridge apartment; two charged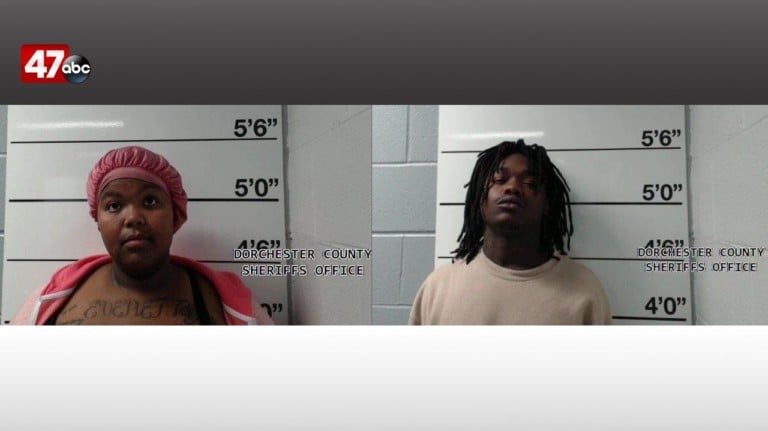 Two people are facing multiple drug charges, after deputies say they found heroin and weapons including pistols and a 12-gauge shotgun in a Cambridge apartment. Three children were also in home at the time of the investigation.
The Dorchester County Sheriff's Office says on Thursday, they were assisted by the Cambridge Police Department, the Dorchester County Narcotics Task Force and the Dorchester County State's Attorney's Office in executing a search and seizure warrant at an apartment at 620 Greenwood Avenue. The warrant was apparently issued after the Tactical Narcotics Team completed an investigation into the distribution of illegal drugs in Dorchester County.
According to the report, 23-year-old Khadijah Jones, of Cambridge, and 20-year-old Everett Williams III, of Marion Station, were found inside the apartment where Jones lives. Deputies say the search revealed 12 gauge shotgun, 194 individual baggies of heroin, 40 Caliber ammunition, 12 gauge ammunition, three baggies of marijuana, two high capacity magazines for a 9mm pistol and a 22 caliber pistol, 9mm ammunition, 22 caliber ammunition, 45 caliber ammunition, 3 cell phones, 91 unused plastic baggies and $94.00 in U.S. currency.
Authorities report that there were three child inside the apartment and they were released to a relative.
Law enforcement reports that Jones and Williams were charged with maintaining a common nuisance, possession of marijuana, possession of heroin, possession of paraphernalia, possession of a firearm during drug trafficking, possession of heroin with intent to distribute and possession of a heroin/ fentanyl mix with intent to distribute.
Both Jones and Williams were ordered to be held without bond.