Cambridge locals gather to raise money for Dorchester County watermen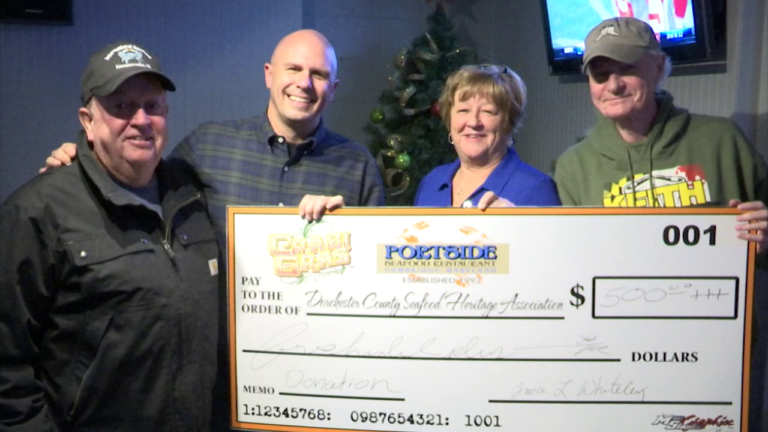 Dorchester County residents are raising money for their local watermen. They are using egg nog as the theme of their annual fundraiser.
The annual Eggnog Ball serves not one, but two purposes. It provides people with the last holiday celebration of the season and raises money for the Dorchester County watermen.
Keith Graffius, an organizer of the event, said, "Four years ago, we decided why don't we do something fun for the watermen that's also kind of light hearted and goofy? So my buddy big Don O 'Brien, Bird Dogs & the Road Kings and myself got together with Marcia at Portside and we came up with the Eggnog Ball."
The annual fundraiser helps local watermen in a unique way.
Graffius said, "That helps them, you know, they go to Annapolis and they lobby, so it helps them get there, helps them pay for meals and put gas in their cars and our watermen association is really a great organization. They give scholarships to the community so it helps them pay for those scholarships, so it goes a lot of different ways."
Dorchester County watermen say this fundraising event is crucial in helping them fight for their rights.
Captain Larry Powley, the PR Director of the Dorchester County Seafood Heritage Association said, "Well they've done this the last two or three years and they always give the Dorchester County watermen some help politically, we're really fighting for our rights. Not only our rights, our heritage."
Watermen say they're hoping to expand the area that they are able to work in.
Powley said, "We've only got just a little area to work in. You've got Dorchester, a little bit of Talbot and Somerset, that are harvesting all the oysters and because we have power dredging in those areas, they won't let us go any farther and it would clean the bay you know? It doesn't make any sense."
If you're confused about what dredging is, Powley has an explanation. "So the dredges what they do is pull it out of the mud and bring the oysters back on top and clean them and then the baby oysters the larvae has something to adhere to and that's whats been such a success," he said.
A watermen's boot was passed around at the fundraising event and people placed donations into it, bringing their fundraising total to an impressive $1002.00, shattering their original goal of $500.00.
Now Dorchester County watermen can feel a little more optimistic about the future.