Amazon still considering District, Va. & Md. suburbs for new HQ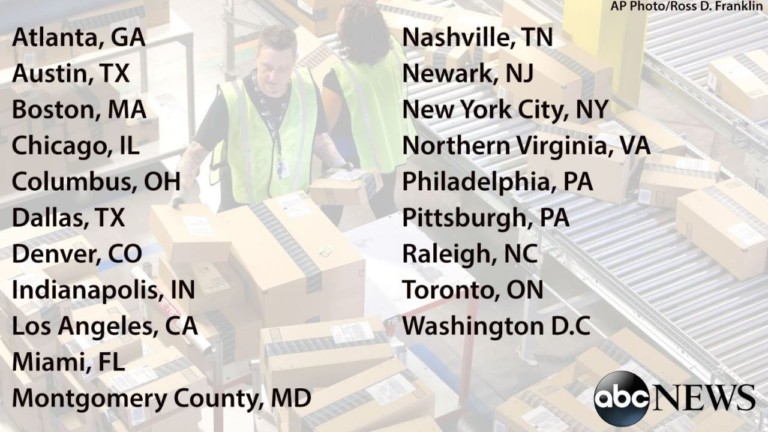 (AP) – Online giant Amazon says it is still considering the District of Columbia and its suburbs in its search for a second headquarters.
Amazon announced Thursday that it has narrowed its search to 20 finalists out of more than 200 submissions.
The District, Northern Virginia, and Montgomery County, Maryland, are listed as three of the finalists.
Amazon has said its second headquarters will be similar in size to its existing headquarters in Seattle, and that it plans to $5 billion in the new headquarters and could employ as many as 50,000 people in and around the city it chooses.
Maryland locations that pursued Amazon but have been eliminated include Baltimore and Prince George's County. Amazon also rejected proposals in Virginia from Richmond and Hampton Roads.
In a statement, Governor Larry Hogan (R-Md.) says, "This is tremendous news for Montgomery County, our entire state, and further proof that Maryland is truly open for business. Maryland put forward an extremely strong group of sites that were all supported by the state with incentive packages totaling more than $5 billion, including road and transit improvements. Going forward, we will continue working with our partners in Montgomery County, including County Executive Ike Leggett and his team, to ensure that we do everything possible to bring this project home. This news is certainly welcome, but the real challenge lies ahead – and Maryland is ready to meet it."
In reference to Northern Virginia being selected as one of the 20 finalists for Amazon's second headquarters, Governor Ralph Northam (D-Va.) says, " We couldn't be prouder that Northern Virginia has been selected as one of 20 candidate locations for this historic project. The Commonwealth's strong proposals for the Amazon HQ2 project represent an unprecedented level of local and regional collaboration, as well as strong support from Governor McAuliffe's Administration and leaders in the Virginia General Assembly. Virginia's outstanding business climate and world-class workforce make our Commonwealth the right place for Amazon to place this key base of operations. We look forward to a continuing partnership with our Northern Virginia communities to show Amazon and job creators all over the world that the Commonwealth is the best place to locate and grow."
Although the State of Delaware was not selected as a finalist, Governor John Carney (D-Del. ) says, " Of course we are disappointed that Amazon has not chosen Delaware as a finalist location for its second North American headquarters. But we used this opportunity to showcase all the options in Delaware not just for Amazon, but for any business looking for a location to set down roots and grow. In that respect, Delaware's effort – which brought together leaders in the public and private sectors to promote our great state – was a resounding success. Going forward, we'll do everything we can to support Philadelphia's application, to help bring Amazon to our region."