DSU President stepping down to become President &CEO of Thurgood Marshall College Fund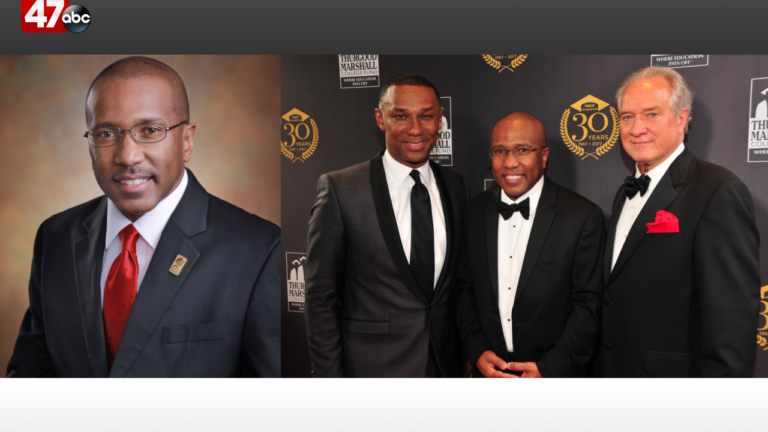 Dr. Harry Williams, who is currently the president at Delaware State University, will be the new Thurgood Marshall College Fund (T.M.C.F.) President and Chief Executive Officer. (T.M.C.F. is the nation's largest organization exclusively representing the Black College Community)
Dr. Harry Lee Williams was also reportedly awarded its Educational Leadership Award on Monday night in Washington, DC at the T.M.C.F 30th Anniversary Awards Gala. Officials say that Dr. Williams will step down at Delaware State University (DSU) in January 2018.
Officials say that as President & CEO, Williams will lead T.M.C.F's 47 member-schools. These schools represent almost 300,000 students from America's Historically Black Colleges and Universities (HBCUs) and Predominantly Black Institutions, and enroll nearly 80% of all students attending HBCUs. Dr. Williams will reportedly be responsible for "building new strategic partnerships to secure millions of dollars creating scholarships, enhancing capacity, expanding HBCU research initiatives, and stimulating innovative programming."
Officials say that Williams will also lead TMCF's K-12 public education reform efforts, and its pipeline programming for Fortune 500 companies seeking highly qualified employees for increasingly diverse US and international markets. Williams takes the place of Johnny C. Taylor, Jr. who served as TMCF's President & CEO for seven years before accepting the position as President & CEO of the Society of Human Resource Management.
T.M.C.F. Board Chairman Jim Clifton says, "Dr. Harry Williams is the first President & CEO of T.M.C.F. appointed as a sitting HBCU President. As a former T.M.C.F. Board member, he brings a 360 degree perspective to our next phase of growth and development." Clifton continued, "Under Johnny's dynamic leadership, T.M.C.F. was able to identify those institutions that employed best practices in higher education leadership to serve as models for the entire Black College Community. Delaware State University was an incredible example for us all, and now; Harry's number one priority will be building scale and capacity across the HBCU community and strengthening these great institutions from their very cores. Without strong, healthy HBCUs, America cannot keep pace in a smaller, more specialized, diverse, and connected world."
Dr. Williams calls his time at Delaware State University "the most defining decade of my professional life," He said that he has taken pride in leading the university through growth and opportunity. He says, "My family and I are deeply indebted to the State of Delaware and to Delaware State University. This University and its community — students, staff faculty, alumni, trustees — have given us more than we could ever have imagined."
"Every day I've attempted return that same level of energy and commitment to the Hornet Nation, so that DSU takes its rightful place among the most important, diverse, and influential HBCUs in the country. While much remains to do, we have achieved our initial objectives and are now perfectly poised for the future. What makes me most proud is that we did it TOGETHER!"
Williams started at DSU 10 years ago as Provost and Vice President for Academic Affairs. Over the next eighteen months, officials say, "he reshaped the curriculum to expand its offerings, increased the academic profile of the student population, and enhanced the University's research agenda."
He was named President eight years ago where he reportedly "grew enrollment by 22%, to record levels in the University's 126-year history, while building a research capacity of nearly $30 million in grants that included a cuttingedge Optics Center and the University's first patents. DSU simultaneously developed an international portfolio including agreements with twenty-six countries worldwide, including joint-degree programs in Asia, Europe and Africa. Williams also spearheaded an unprecedented $20 million fundraising campaign, and attracted the investment from national philanthropic organizations including the Bill and Melinda Gates Foundation and Don Graham's TheDream.US. At the same time, Williams dramatically expanded DSU's footprint in Delaware, launching the Delaware Institute for Science and Technology, chartering the Early College High School, and establishing a major satellite campus in metropolitan Wilmington, Delaware's only urban center."
Officials say that DSU currently "attracts national attention for its work in data-driven student retention programs and a bold commitment to seventy-five Dreamers in the student body, Williams is widely regarded as one of the "ten most influential HBCU Presidents in America," a formal recognition he received from HBCU Digest earlier this year."
Delaware Governor John Carney says, "Dr. Williams has led Delaware State University during a critical time – when higher education has been more important than ever to the success of young Delawareans, and to our collective success as a state. DSU has long been one of Delaware's most important and historic institutions, and its contributions to our state, our ability to attract talented young people, and prepare the next generation, have only grown under Dr. Williams' guidance. We'll miss his leadership in Delaware. The Thurgood Marshall College Fund is lucky to have him and we wish him well." Delaware's entire Congressional Delegation — Senators Tom Carper and Chris Coons; and Congresswoman Lisa Blunt-Rochester — joined the well-wishers, lauding Williams for his accomplishments and predicting great things for him at T.M.C.F.
DSU Board of Trustees Chair Dr. Wilma Mishoe, whose father Luna Mishoe was reportedly the longest serving President in DSU history, said, "Dr. Williams is a visionary leader whose acumen and style are matched only by his commitment to our students' success. There could not have been a more ideal person to lead us through the still early days of the 21st Century. He embodies the very best of us from our initial roots as Delaware College for Colored Students to our evolution as a comprehensive teaching, learning, and research University. We will miss him, along with his extraordinary wife Dr. Robin Williams, who is a force in her own right, and their two lovely children, Gavin and Austin. As our first family, they have been a great example of what love, service and sacrifice look like when on full display."
Mishoe, who was named as the first female Board Chair at DSU in July 2017, said that the University must now look to the future: "Our task is to find the next great, transformative leader for DSU. The Executive Committee will meet this week, followed very shortly by the full board of Trustees, to discuss our path forward through a transition plan and a national search process, Stakeholders from the entire DSU family will be apprised of our progress and involved in our process."