Group urges governor to fill vacancies in hospitals, correctional facilities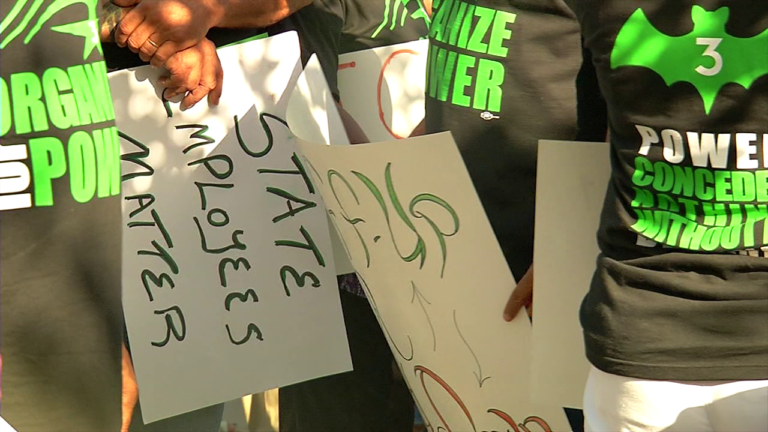 Community members, elected officials, patient families and AFSCME Maryland members gathered on Baptist Street demanding action from Governor Larry Hogan in regard to vacancies in state hospitals and correctional facilities.
They say these staffing shortages have led to a community and public safety crisis.
Council President Patrick Moran says Deer's Head Hospital in Salisbury has had to turn away hundreds of mental health clients that need aid and assistance due to insufficient staff and beds.
Earl DeVincentz, a correctional officer at ECI, says shortages have resulted in massive amounts of overtime, creating a retention problem for the Department of Correction.
"We are Maryland. We have the resources to deal with it, Governor Hogan needs to put those resources forward and take care of the issue and address the issue. Whether that's here on the eastern shore, in the center of the state, or out in western Maryland," said Moran.
We did get a response from Gerard Shields, spokesperson for Public Safety and Correctional Services, who says they notice the vacancies and are working to fill them.
Shields tells 47abc that the department has held several recruiting events this year and has been able to recruit a couple dozen correctional officer candidates.
He adds closing Poplar Hill and moving 23 officers to ECI has reduced openings in that institute by about 20 percent.
Last Thursday the department announced it would be offering a $5,000 incentive to recruit new officers.
The decisions to implement the incentive came after surveying how other departments across the country were trying to fill their openings.
"Law enforcement across the board has had its difficulties, and I think the secretary has been doing what he can to try to increase our staffing as much as possible… We're reaching out for everything we can do to staff our department and make sure that we're fully staffed."
We received this response from Health Department spokesman Christopher Garrett.
"The Department of Health is completely committed to providing the best services possible at all of our facilities in every region across the state. In fact, department leadership was in Salisbury this past May to meet with the public about tailoring the services provided to more closely serve the community's needs. Additionally, the department is in the process of realigning 164 existing positions for units in our behavioral health facilities and for other mental health needs.
"Unfortunately, in recent weeks the department has been forced to rebut numerous misleading claims made by union leadership in regards to the true nature of staffing ratios in those buildings in which we serve the public."