Short Track Super Series 'Blast at the Beach 4′ Set for Tuesday, August 29 at Georgetown Speedway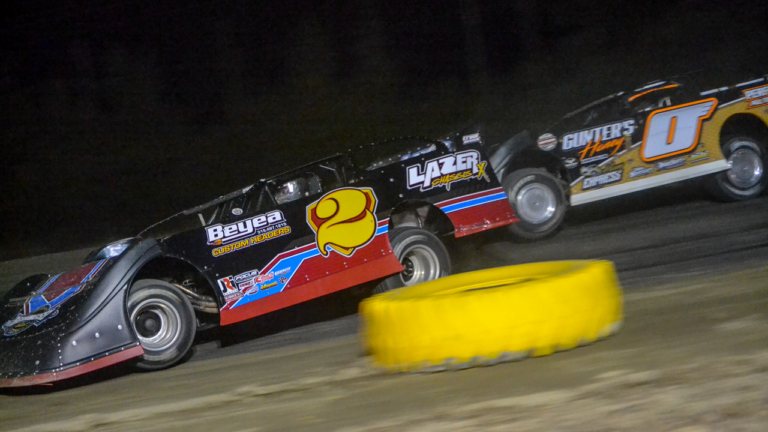 The week before Labor Day is known to many as a farewell to summer.
For race fans, it's become a holiday week tradition to attend Georgetown Speedway.
The fourth annual 'Blast at the Beach' takes place Tuesday, August 29 at the historic half-mile oval featuring the powerful big-block/small-block Modifieds of the Bob Hilbert Sportswear Short Track Super Series (STSS) Fueled By VP.
A hefty $5,500 winner's share awaits the victor after 35 laps of racing, with $1,000 reserved to the 10th-place finisher and $400 just to take the green flag.
The 'Blast at the Beach' serves as Round No. 6 of the eight-race STSS Velocita South Region, with a $10,000 championship looming at year-end.
Sponsorship for the event comes via K&B Auto, American Portable Mini-Storage, Clark's Pools and All-County Garage Door.
A year ago, Stewart Friesen and Ryan Watt waged a side-by-side 'Blast at the Beach' battle for the lead, with Sprakers, N.Y.'s Friesen ultimately edging Watt to take the victory. Friesen, a winner earlier in 2017 at Georgetown during the Deron Rust Memorial, plans to make the six-hour-plus tow south again to take his shot at the cash.
Along with Friesen as past 'Blast at the Beach' winners are Jordan Watson (2015) and Tyler Dippel (2014).
In the STSS South Region championship battle, Friesen leads Ryan Watt by 18 points (381-363) entering the Georgetown event.
Joining the STSS Modifieds on the 'Blast at the Beach' program are L&J Sheet Metal Crate 602 Sportsman paying $1,000 to win, Delaware Super Trucks and Delmarva Chargers.
On August 29, pit gates open at 4 p.m. Grandstand gates are unlocked at 5 p.m. Hot laps hit the track at 6:20 p.m., with racing at 7:15 p.m.
Grandstand admission is $20 for Adults, $15 for Seniors (ages 65 and up) and Students (ages 13-17), $10 for Kids (9-12) and Children eight and under are FREE. Pit admission is $35 for Adults (ages 13 and up), $10 for Kids (ages 6-12) and $2 for Children five and under. No license is required.
The event carries a rain date of Wednesday, August 30.
Complete race information can be found at the following link: http://bdmotorsportsmedia.com/blast-at-the-beach-4-rules-prices-general-info/
Georgetown Speedway, originally constructed by Melvin L. Joseph in 1949, is located at the intersection of Route 113 and Speedway Road in Georgetown, Del., just miles from the Delaware beaches and less than a 40-minute drive from Ocean City, Md.
A website is live for the speedway at www.thegeorgetownspeedway.com. Like Georgetown Speedway on Facebook, follow @thegtownspdwy on Twitter, e-mail georgetownspeedway@gmail.com or contact Brett Deyo at 845.728.2781 during business hours for more information.
To learn more about the Short Track Super Series Fueled By VP or BD Motorsports Media LLC, visit www.shorttracksuperseries.com or www.bdmotorsportsmedia.com, call 845.728.2781 during business hours, e-mail bdmotorsportsmedia@gmail.com, "like" Short Track Super Series on Facebook or follow @ShortTrackSS on Twitter.