Mission: Lifeline Silver Award presented to Sussex Co. EMS and Nanticoke Health Services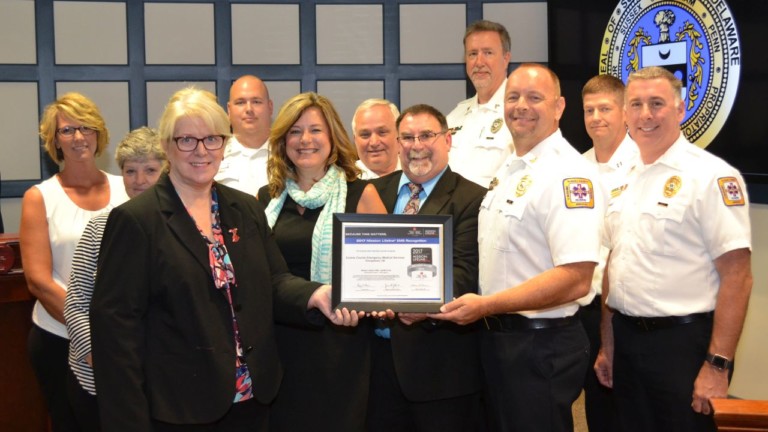 On Tuesday, Sussex County Emergency Services and Nanticoke Health Services received national recognition for their treatment of cardiac patients.
Officials with the Sussex County EMS says that Nanticoke Health Services and Sussex County EMS were awarded the Mission: Lifeline Silver Award by the American Heart Association, in Georgetown.
The Mission Lifeline EMS Silver Award is given for implementing quality improvement measures for the treatment of patients who experience severe heart attacks. in response to receiving the award Rob Mauch, manager of quality and standards for Sussex County EMS, said, " We are pleased to be recognized for our dedication and achievements in emergency medical care for all cardiac patients."
According to officials, Mission: Lifeline recognizes the team effort that occurs during any cardiac event, and how working together in the field and at the hospital to gather accurate information and provide critical care can improve a patient's chances of survival.
"EMTs and paramedics play a vital part in the system of care for those who have heart attacks. Since they often are the first medical point of contact, they can shave precious minutes of life-saving treatment time by activating the emergency response system that alerts hospitals. We applaud Sussex County EMS and Nanticoke Hospital for achieving this award that shows they meet evidence-based guidelines in the treatment of people who have severe heart attacks," said James Jollis, M.D., Chair of the AHA's Mission: Lifeline Advisory Working Group.
Health officials say that agencies that receive the Mission: Lifeline Silver award have demonstrated at least 75 percent compliance for each required achievement measure for one year. For Sussex County EMS, the compliance rate is 90 percent to 98 percent on the various measures.