Local fundraising efforts underway to help victims in Texas from Hurricane Harvey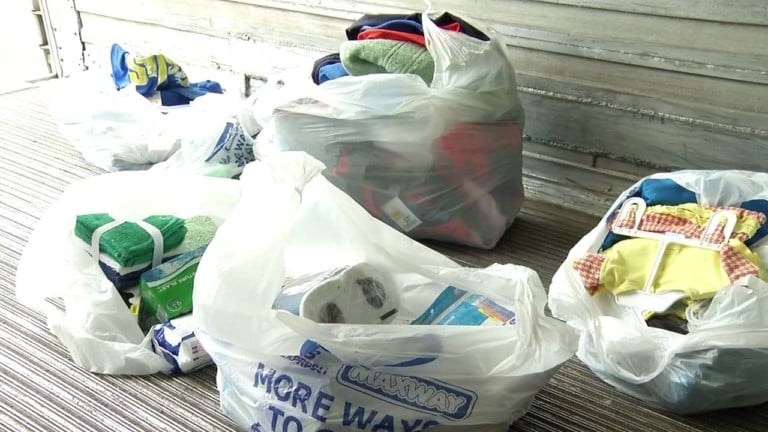 In Texas, a category 4 hurricane made landfall with winds of 130 miles per hour in Texas on Friday night.
Homes and communities ravaged, a path of destruction left behind and continuing rainfall making recovery that much harder.
And citizens across the nation and right here on Delmarva are stepping up to help.
47 ABC spoke to the Red Cross earlier today, who tells us the Greater Chesapeake Region is currently sending 96 volunteers, from Delaware and Maryland predominantly.
Red Cross is also working with people here on Delmarva to coordinate more than just volunteers but supplies as well.
It's a 53-foot-truck in Gumboro that's all apart of the donation efforts. It's just one of three that will soon be on the way to Texas.
Organizer Pastor Chuck Reynolds from Joshua House Ministries is hoping to fill them help victims of Hurricane Harvey.
They hope to stock them with essentials like toilet paper, tooth brushes, and clothes.
This was actually inspired after Pastor Reynolds saw the aftermath of Hurricane Katrina back in 2005.
He traveled down to areas with the most destruction to help.
And with residents in Texas facing a similar situation, he wants to extend that same help to those in need there.
Pastor Reynolds says, "Just open up your hearts. We're blessed that it wasn't here, not saying it could never happen, because things have happened here on the shore and we gave opportunity to help people, even though we don't know them to show our love for those in desperate need right now."
There are two other locations with donation trucks as well. Those trucks will be at the Gumboro Community Center and Wesleyan Church.
They are not leaving until those trucks are completely full.
Donations can also be sent to Red Cross online or just text HARVEY to 90999.
Drop-Off Locations:
Joshua House Ministries
Pastor Chuck Reynolds
38140 Millsboro Hwy
Millsboro DE 19966
Gumboro Wesleyan Church
Pastor Eddie Daniels
36482 Millsboro Hwy
Millsboro DE 19966
Gumboro Community Center
36849 Millsboro Hwy.
Millsboro, DE 19966
List of items needed please keep in mind they have nothing so anything helps. Here are a few suggestions, however please feel free to add to the list.
LIST:
Diapers
Water bottled and gallons
Ready to eat food
Socks all sizes
Clothes all sizes
Blankets
Cleaning supplies
Mops
Mask
Hygiene items
Toilet paper
Food for pets
Flashlights
Batteries
Non parishable items
Washcloths
Towels
Baby wipes
Shampoo
Deodorant
Brushes
Combs
Razors
Blankets
Pillows
Shoes
Bug spray
Bleach
Sanitizer
Toys and stuffed animals
Backpacks
Powered formula
First aid kits
Antiseptic sprays
Sunscreen
Snack foods
Juices
Gatorade