Devin Moran dominates Georgetown Speedway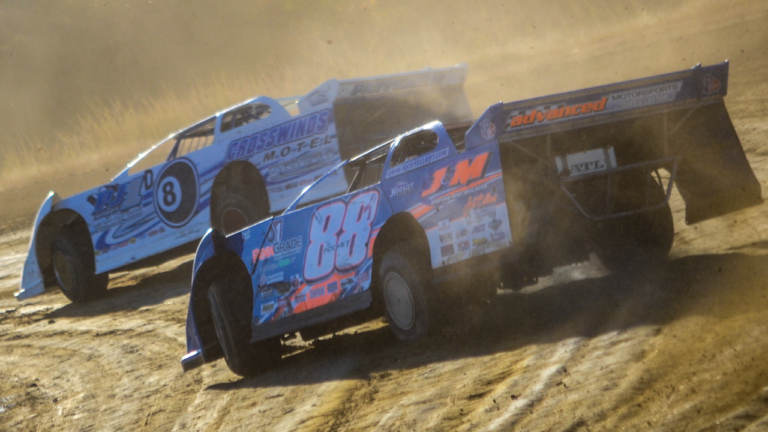 The World of Outlaws Craftsman® Late Model Series first ever visit to Georgetown Speedway, and only race in the state of Delaware in 2017, packed the house with fans eager to witness history for the inaugural Fulton Bank 40.
The largest paycheck ever written by Georgetown Speedway left in the hands of Devin Moran and his team after a dominating flag-to-flag performance on the half-mile dirt track.
Moran's recent stretch of bad luck has seemingly come to an end on Thursday night as he was placed on the pole for the 40-lap event after pulling the no. 1 Craftsman wrench from the tool box. The Rookie of the Year contender was then able to defend his lead position from home state hero, Austin Hubbard and current Series point leader, Brandon Sheppard. Hubbard and Sheppard both started on the second row for the shootout.
"We just had a really good balance with our car tonight," said Moran. "We went back to our basic deal and we just got better there."
Sheppard was able to pass Hubbard on lap 2 for second, then he quickly began working on race leader Moran. A total of three cautions fell early in the race, each erasing the ground Moran had made between him and the field. Yet, the multiple cautions didn't faze the young gun as he was able to continually pull back away from a hard charging Sheppard and the rest of the pack.
The final wave of the yellow flag happened on lap 13 and Hubbard used the restart to his full advantage as he was able to regain second from Sheppard. Hubbard then worked tirelessly to reel in Moran but he was unsuccessful in his efforts.
Moran approached lapped traffic on lap 29 and his strong lead began waver. Due to the traffic, Hubbard was able to cut Moran's lead by more than one-second in only eight-laps time.
"Those lapped cars started getting me worried there for a minute but I just knew I couldn't get off of the bottom, especially in three and four," said Moran. "I didn't want to bounce off of the bottom and let Austin by us. We stayed down there and he didn't get by us."
By the time the checkers fell, Moran held 0.972 seconds over the rest of the field ultimately claiming his second career Series win. His first win was on May 26 at Atomic Speedway.
"Devin was really good," said Hubbard. "I don't think we were better than him. Traffic definitely helped us. It got pretty one lane there and I figured he'd have to make a big mistake or someone would have to wreck there. We were right there we just needed a little bit more."
Sheppard rounded out the podium at Georgetown Speedway and has set his eyes on the second of three Series races during the northeast swing- Port Royal Speedway.
"We had a good racecar tonight but it was hard to pass out there," said Sheppard. "We got a bad restart out there after the last caution and Austin got by me there. Devin and Austin did a good job and we held on for third. I feel like we had just as good of a car as them guys, it was just you would have to make some really aggressive moves there to do any passing. Overall, we will take a third-place finish and move on to Port Royal on Saturday."
In support division competition, Kirk Lawson held off the advances of Joe Tracy in the 12-lap Little Lincoln feature; Jerry Barker wired a green-to-checkered 12-lap Delmarva Charger main; and Shane Clogg topped a wild 12-lap Delaware Super Truck main.
Additional Race Notes:
Moran dedicated his long-awaited win to his grandparents: "This one definitely goes out to my Grandma and Grandpa. They've had a hard month and a half, so hopefully they get to watch this tomorrow and this will put a smile on their face. This is so cool what God can do in the times you need it the most. This win is a blessing."
Frank Heckenast Jr. made a comeback during the 40-lap race as he was able to race from a 21st position start to finish among the top-10. Heckenast had troubles earlier in the day which sent him to the pits during the first lap of his heat race.
After the event, several fans thanked Georgetown Speedway track promoter, Brett Deyo, for hosting the race with the Outlaws. Many fans stopped him on his way toward the track office to shake his hand.
WORLD OF OUTLAWS 'FULTON BANK 40' RACE SUMMARY – GEORGETOWN SPEEDWAY AUGUST 17, 2017
World of Outlaws Craftsman Late Model Series 'Fulton Bank 40' Feature Finish (40 laps): DEVIN MORAN, Austin Hubbard, Brandon Sheppard, Rick Eckert, Chris Madden, Shane Clanton, Tyler Erb, Jason Covert, Frank Heckenast Jr., Morgan Bagley, Chub Frank, Kyle Hardy, Eric Wells, Jamie Lathroum, Nick Davis, Dale Hollidge, Ricky Elliott, Mark Pettyjohn, Ross Robinson, Chad Hollenbeck, Mason Zeigler, Brent Robinson, Donald Lingo Jr., Kenny Pettyjohn.
Did Not Qualify: Amanda Whaley, Bob Geiger, Dan Stone, Rob Schirmer.
Little Lincoln Feature Finish (12 laps): KIRK LAWSON, Joe Tracy, Landy Adams, Matt White, Bunky White, Wayne Seaton.
Delaware Super Truck Feature Finish (12 laps): SHANE CLOGG, Matt Esham, Robert Smith, Jerry Hill, Mike Kennedy, Matthew Smith, Rocky Whitley, Kirk Miles, Bobby Reed, Dick Beauchamp, J.R. Bergman, Tim Quay, Billy Lockwood, David Smith, Thomas LeCates, Thomas "Action" Jackson, Dale Elliott.
Delmarva Charger Feature Finish (12 laps): JERRY BARKER, Jay Sipple, Scott Calhoun, Robert Paczowski, Tanner Marvel, Chris "Tippy" Martinez, Ashley Merritt, Derek Swafford, Randy Merritt, Ben Knotts, Earl Truitt, Jeff Dierks.