Baltimore Ravens and Amamark "Shake" up menu at M&T Bank Stadium with addition of Shake Shack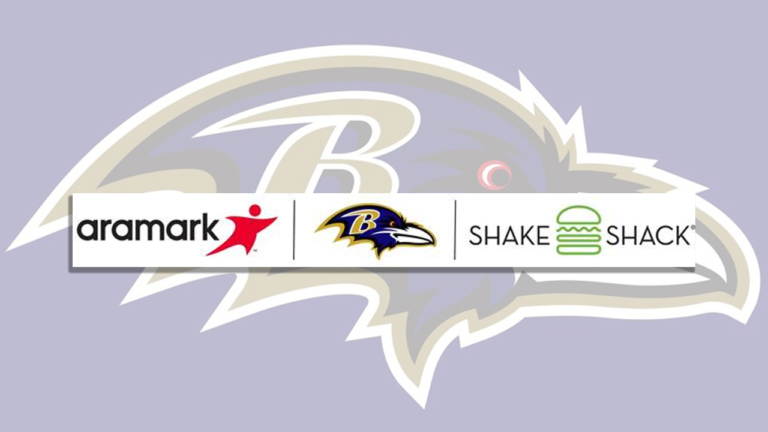 The Baltimore Ravens and Aramark, the exclusive food and beverage provider at M&T Bank Stadium, announced today the addition of Shake Shack® to M&T Bank Stadium's roster of new menu offerings for the 2017-18 NFL season.
M&T Bank Stadium is the first NFL stadium to feature Shake Shack and marks the second Shake Shack location in the City of Baltimore.
Shake Shack, the critically acclaimed modern day "roadside" burger stand, will open for service beginning with the Ravens' first home preseason game on August 10. Known for its 100% all-natural Angus beef burgers (humanely raised, no hormones or antibiotics – ever), chicken sandwiches (humanely raised, no hormones or antibiotics – ever), griddled flat-top dogs, fresh-made frozen custard, crispy crinkle cut fries and beer, Shake Shack has earned a cult-like following around the world.
Located by section 109, on the main concourse, the stand will feature an assortment of Shake Shack classics, including the ShackBurger®, a single or double cheeseburger topped with lettuce, tomato and signature ShackSauce; 'Shroom Burger, a crisp-fried Portobello mushroom filled with melted muenster and cheddar cheeses, topped with lettuce, tomato and ShackSauce; Shack Stack®, a cheeseburger and 'Shroom Burger topped with lettuce, tomato and ShackSauce; hotdogs, crinkle-cut fries and more. For something a little sweeter, Shake Shack will offer fresh-made frozen custard and an assortment of shakes.
"In partnership with Aramark, we are always looking for ways to enhance the fan experiences at M&T Bank Stadium," said Dick Cass, President, Baltimore Ravens. "Adding Shake Shack to our food menu is an example of that. Shake Shack produces quality, popular food that is craved by many. It's a terrific addition to our game-day attractions."
"We're continually working with the Baltimore Ravens to identify new and innovative ways to enhance the dining experience for fans at M&T Bank Stadium," said Carl Mittleman, President, Aramark's Sports and Entertainment division. "With the addition of Shake Shack to an already robust lineup of offerings, fans are going to have even more to cheer about this season at Ravens games and other stadium events."
"Like any Baltimore fan knows, this city is all about the Ravens," said Michael Kark, Shake Shack's Vice President of Global Licensing. "Shake Shack has always been a restaurant that brings people together, and no place does that quite like M&T Bank Stadium. We're ecstatic to be a part of this important community that reverberates with Baltimore pride every single day. I'm confident this menu will excite both the home team and visitors alike!"
About Baltimore Ravens
Entering their 22nd year of existence, the two-time Super Bowl Champion Baltimore Ravens have earned a playoff berth in six of the past nine seasons. Since head coach John Harbaugh's arrival in 2008, Baltimore has posted the NFL's fourth-most total victories (95), won the league's second-most playoff games (10), advanced to an impressive three AFC Championship contests, and in 2012, captured the World Championship in Super Bowl XLVII. The Ravens, who also won Super Bowl XXXV during the 2000 campaign, have made the playoffs in seven of the past 11 seasons – producing three AFC North Division titles during this time (2006, 2011 and 2012).
About Aramark
Aramark (NYSE: ARMK) proudly serves Fortune 500 companies, world champion sports teams, state-of-the-art healthcare providers, the world's leading educational institutions, iconic destinations and cultural attractions, and numerous municipalities in 19 countries around the world. Our 270,000 team members deliver experiences that enrich and nourish millions of lives every day through innovative services in food, facilities management and uniforms. We operate our business with social responsibility, focusing on initiatives that support our diverse workforce, advance consumer health and wellness, protect our environment, and strengthen our communities. Aramark is recognized as one of the World's Most Admired Companies by FORTUNE, as well as an employer of choice by the Human Rights Campaign and DiversityInc. Learn more at www.aramark.com or connect with us on Facebook and Twitter.
About Shake Shack
Shake Shack is a modern day "roadside" burger stand known for its 100% all-natural Angus beef burgers and flat-top Vienna beef dogs (no added hormones and no antibiotics ever), 100% all-natural cage-free chicken (no antibiotics ever), spun-fresh frozen custard, crinkle cut fries, craft beer and wine (available at select locations) and more. With its fresh, simple, high-quality food at a great value, Shake Shack is a fun and lively community gathering place with widespread appeal. Shake Shack's mission is to Stand For Something Good®, from its premium carefully sourced ingredients and caring hiring practices to its inspiring designs and deep community investment. Since the original Shack opened in 2004 in NYC's Madison Square Park, the company has expanded to more than 80 locations in 18 U.S. States and the District of Columbia, and more than 50 international locations including London, Istanbul, Dubai, Tokyo, Moscow, Seoul and more.