Xpogo: Delaware State Fair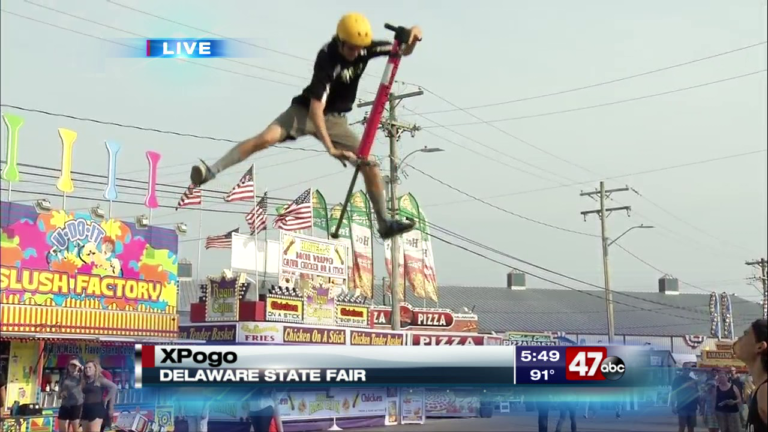 One of the jaw-dropping events at the 2017 Delaware State Fair is known as Xpogo.
The Xpogo Stunt Team is the world's best extreme pogo demo crew.
Featuring Championship Pro Athletes flying over 10 Feet in the air on extreme pogo sticks throwing down flips and incredible tricks.
They've preformed over 20 countries including: Spain, France, Turkey, Italy, England, Austria, Sweden, Russia, China, the United Arab Emirates, Japan, South Korea, Singapore, Africa, Australia, and Canada.
And the team holds over 10 Guinness World Records including:
The highest jump at 11 feet, 1 and a half inches.
Most cars jumped over: 2 in a row.
Highest front flip: 10 feet 2 inches.
Most backflips in a row: 18 backflips.
Most consecutive jumps: 88, 047 jumps.
Fastest mile on a pogo: 7 minutes 40 seconds.
Most no footed jumps: 117 jumps.
Farthest distance bounced in 24 hours: 26.2 miles.
Most front flips in a row: 8 front flips.
Most synchronized backflips: 15 people.
Most jumps in 1 minute: 266 jumps.
Least jumps in 1 minute: 38 jumps.
Highest backflip: 9 feet 3 inches.
Most no handed backflips in a row: 9.
They've also preformed over 10,000 times.
XPogo has shows everyday here at the fair, show times ranging from 4PM through 9 PM
To learn more about XPogo: Click Here.