92nd annual Chincoteague Pony Auction draws large crowd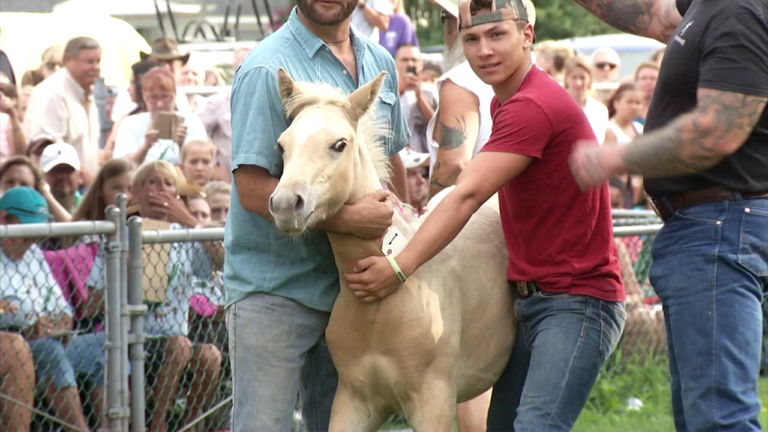 The 92nd annual Chincoteague Pony Auction attracted thousands of eager bidders hoping to bring home their very own pony.
The event kicked off with a performance from the award winning Chincoteague Pony Drill Team.
The team is made up of several experienced riders on Chincoteague ponies who had been auctioned off in the past.
Their performance served as a way to show off what the Chincoteague ponies can do.
The 2017 bidders came from both near and far.
47 ABC spoke to a family who drove out from Minnesota to bid for a Chincoteague pony. "We brought the horse trailer out and we drove 23 hours, yep! Central Minnesota," the Sams family said.
For Naomi Sams, bringing home a Chincoteague pony is a childhood dream come true. She said, "I read the [Chincoteague] book when I was in second grade, and I've wanted to come since. My mom and dad never brought me, so now that my boys are old enough I said, we're going!"
For some, the event is simply tradition. Jack Brittingham, a Salt Water Cowboy, has attended the event for 37 years. He said, "I've bought three Chincoteague ponies: one for my boys, one for my niece and one for my granddaughter, and I'm riding them!"
The auction plays a crucial role in sustaining the Chincoteague Volunteer Fire Company. Denise Bowden, Public Relations Officer, said, "Our citizens don't pay a fire tax. This event helps us raise money to buy half a million dollar fire trucks, two hundred thousand dollar ambulances, and that doesn't include everything that has to go into them."
The event has another purpose. "It is also a way for us to control the herd population over on the Virginia side of Assateague," Bowden said.
Those bidding on Thursday also had the option to bid for what is called a buy-back pony.
"That pony will go back to Assateague, never get sold again, live the rest of it's life out there. You get to name it. During fall and spring roundups, you can come back, visit it, see it and all that good stuff," Bowden said.
The leftover adult ponies will be making the return swim to Assateague Island Friday. They will continue to live in the wild for another year, until next year's pony auction.
As for the ponies bought at Thursday's auction, they are making their way to their new forever homes.