Four Nights Of Super Late Model Action Set For June 30-July 3;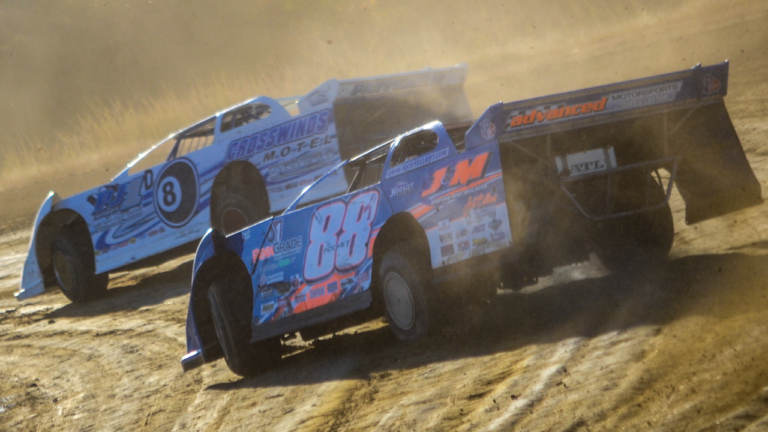 Super Late Models in the Mid-Atlantic Region can celebrate our nation's birth with four nights of racing leading into the July 4th holiday.
A quartet of facilities in as many states – Delaware, Maryland, Pennsylvania and Virginia – make up the Independence Day Summer Classic for the division from June 30-July 3.
It all gets underway on Friday, June 30 at Pa.'s Bedford Speedway. Winchester (Va.) Speedway hosts night No. 2 on Saturday (July 1), with Georgetown Speedway in Delaware presenting the third event. The series wraps up on Monday (July 3) at Potomac Speedway in Budd's Creek, Md.
Each of the four nights will pay $3,500 to the winner and $350 to take the green from a purse structure totaling $15,850. The full breakdown follows: 1) $3,500; 2) $1,500; 3) $1,000; 4) $900; 5) $800; 6) $700; 7) $600; 8) $550; 9) $525; 10) $500; 11) $475; 12) $450; 13) $425; 14) $400; 15) $375; 16-24) $350.
The promoters from each of the four facilities have combined to pay a point fund totaling $2,000 for the four nights of racing. Five positions will be paid so long as the driver has attended all four events. The point fund breakdown is 1) $700; 2) $500; 3) $400; 4) $250; 5) $150.
At Georgetown July 2, the RUSH Crate Late Models will join their powerful Super Late Model brethren in a "Great Crate Race" paying $1,776 to the winner and $125 to start (20 laps).
Also on the card are Delmarva Chargers and Delaware Super Trucks.
Complete race information can be found at the following link: http://www.thegeorgetownspeedway.com/?page_id=775
Georgetown Speedway, originally constructed by Melvin L. Joseph in 1949, is located at the intersection of Route 113 and Speedway Road in Georgetown, Del., just miles from the Delaware beaches and less than a 40-minute drive from Ocean City, Md.
A new website is live for the speedway at www.thegeorgetownspeedway.com. Like Georgetown Speedway on Facebook, follow @thegtownspdwy on Twitter, e-mail georgetownspeedway@gmail.com or by contacting the speedway hotline at 302.563.GTWN (4896).