Crisfield High School student wins national art competition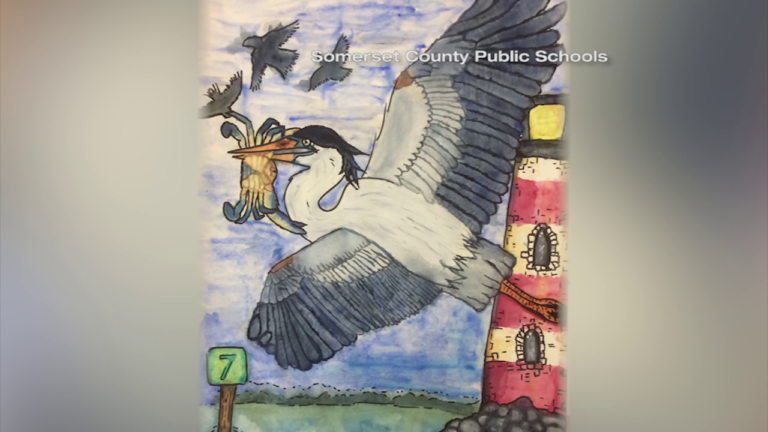 Painting a good picture can make you feel good.
But painting a picture good enough to hang in the U.S. capitol building is quite the accomplishment.
That's exactly what one Crisfield High School student did.
Meet Angeline Marsh.
A Crisfield high school junior, making big news when it comes to art.
"I'm really excited it's just a big achievement," Marsh said.
She's talking about Congressman Andy Harris' congressional art competition.
The competition recognizes talented high school students from all over the country.
And Angeline's piece was chosen to represent the first district.
She says it was her mother who encouraged her to apply.
"I feel like I wasn't going to win but I did it anyways," Marsh said.
As for her award winning piece –
"We were really just told to paint something that spoke eastern shore."
Growing up on Smith Island- she knows all about the Eastern Shore.
Angeline has to take a boat to school every day.
The beautiful scenery is great inspiration.
For her piece, she chose to feature a great blue heron carrying a crab.
"It's watercolor but there's also some acrylic and sharpie so it's technically mixed media," Marsh said.
As far as any influences when it comes to painting –
"Mainly art class I don't think i would've been able to do it if we didn't have such a great art class and such a great art teacher Mr Holland," Marsh said.
"I would've just not been able to create what I would've created without that."
At the end of June, Angeline will travel up to Washington to join other winners from around the country for a breakfast reception with Congressman Harris.
And of course see her artwork on display at the U.S. Capitol Building, where it will live for one year.
We asked what advice she had for fellow students-
"Just always try your best and enter competitions even if you think you won't win you probably will there's a good chance because if you say no and don't do it you'll never know if you could do it," Marsh said.