New efforts underway to boost Del. tourism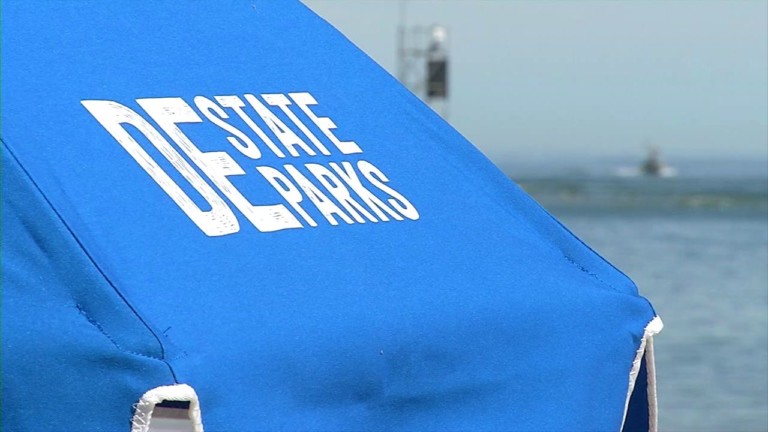 Beach season is right around the corner and for tourism hot spots like parts of Delmarva, it's a lucrative time for businesses.
New efforts were unveiled Tuesday in an effort to promote tourism in the First State. The efforts involved partnerships formed between agencies, according to the Delaware Tourism Office.
"There's 30 million people within two hours of us, so we can take advantage of that," says director Linda Parkowski.
Parkowski's office has partnered with Delaware State Parks to bring 50 new beach umbrellas available for rent at the Delaware Seashore State Park.
Each umbrella is emblazoned with the Visit Delaware logo and website plus the Delaware State Park's logo.
"We're hoping that our URL that's on there, visitDelaware.com and the really cool look of the beach umbrellas will encourage people to go to the website and see what else there is to offer," she explains.
Another effort is the opening of Big Chill Beach Club, which is through a partnership with Delaware State Parks and La Vida Hospitality Group. The full-service restaurant and bar is being built on top of the park's existing bathhouse.
According to the Delaware Tourism Office, offering new services like this helps ensure visitors return year after year.
Salisbury resident Melissa Cullen says she's been coming to Delaware beaches her entire life.
"It's just not as crowded," says Cullen. "They're a little bit more of a place you can walk and think and enjoy, meditate…let things go and just enjoy the sounds of nature."
While agriculture remains the top economic engine of Delaware, Governor John Carney says tourism follows.
According to Governor Carney, more than half of the three-billion dollar industry comes from the summer months.
"It's family farmers across Sussex and Kent counties, and the tourism industry really…the attraction here is these beautiful beaches up along the bay shore," says Carney.
The Big Chill Beach Club is slated to open in late May.