Monday Night "Live" Stock Car Racing Comes To Georgetown Speedway THIS MONDAY, MAY 15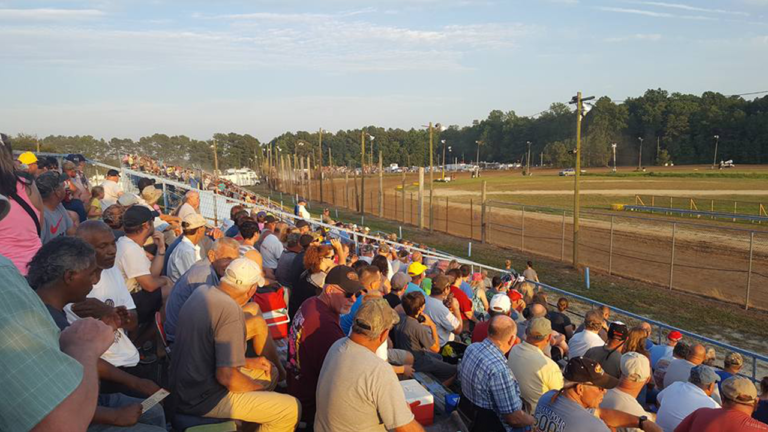 Monday night is best known for professional wrestling and football when it comes to entertainment.
That will change THIS MONDAY, May 15.
Georgetown Speedway, the half-mile oval located on Route 113 just south of Georgetown, Del., is set to bring live stock car racing to the Monday night entertainment scene. The event will help cure the 'rainy day blues' for race fans foiled by wet spring weather that has caused widespread cancellations across the Northeast.
This unique Monday program will include BOTH the Super Late Models and big-block/small-block Modifieds.
Super Late Models will battle in a 20-lap, $2,000-to-win feature offering the winner a guaranteed starting position in the 'Fulton Bank 40' World of Outlaws Craftsman Late Model $10,000-to-win spectacular at Georgetown on Thursday, August 17.
The big-block/small-block Modifieds race a 25-lap main event with $2,000 also listed as the top prize. The winner receives a guaranteed REDRAW position for the Bob Hilbert Sportswear Short Track Super Series Fueled By VP 'Blast at the Beach' on Tuesday, August 29.
Also on the card: Crate 602 Sportsman (20 laps: $500 to win, $100 to start), RUSH Crate Late Models (20 laps: $500 to win, $100 to take the green), Delmarva Chargers (15 laps, $200 to win, $40 to take the green) and Delaware Super Trucks ($200 to win, $40 to take the green).
Gates open at 4 p.m. in the pit area and 5 p.m. in the grandstands. Hot laps begin at 6:20 p.m. Racing gets underway on 7:15 p.m.
Adult admission is $20. Seniors (ages 16 and up) and Students (ages 13-17) will pay $16. Kids 9-12 pay $10. Children eight and under are FREE.
Pit admission is $35 for Adults. Kids 6-12 pay $10. Children five and under pay $2.
Georgetown Speedway, originally constructed by Melvin L. Joseph in 1949, is located at the intersection of Route 113 and Speedway Road in Georgetown, Del., just miles from the Delaware beaches and less than a 40-minute drive from Ocean City, Md.
A new website is live for the speedway at www.thegeorgetownspeedway.com. Like Georgetown Speedway on Facebook, follow @thegtownspdwy on Twitter, e-mail georgetownspeedway@gmail.com or by contacting the speedway hotline at 302.563.GTWN (4896).