Worcester Humane Society gears up for Boardwalkin' for Pets event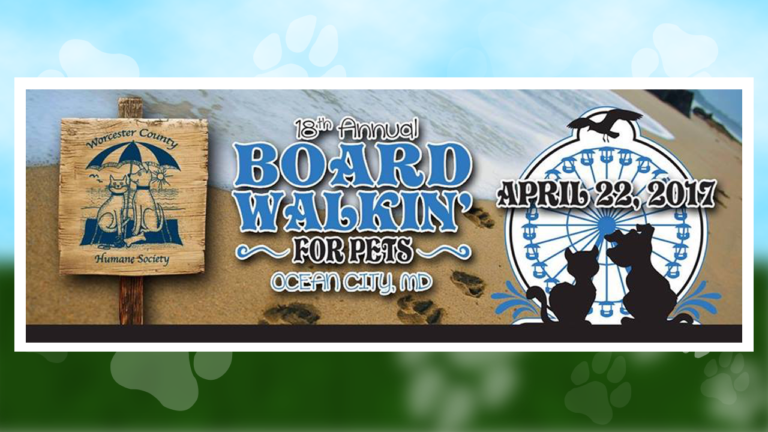 One local humane society is getting ready for their biggest fundraiser of the year, and there's still time for you to participate.
The Worcester County Humane Society says on Saturday, April 22nd they will host the 18th Annual Boardalkin' for Pets event, on the Ocean City Boardwalk from 9 AM until 12 PM.
"Boardwalkin' for Pets is our biggest fundraiser of the year," says Boardwalkin' for Pets Chair, Heather Bahrami. "It's such a feel-good, family friendly event that brings animal lovers from near and far together to raise funds for the many cats and dogs who find their way to our no kill shelter."
The fundraising weekend kicks off on Friday, April 21 at Adolfo's on the Ocean at 13th Street from 4-9 PM, with dinner and a silent auction. Tickets are $25 and can be purchased online, at the shelter or at Adolfo's starting on March 30th. Tickets can also be purchased at the door for $30. A percentage from every ticket purchased will be donated to the Worcester County Humane Society.
Then on Saturday morning, grab your best friend, two legged or four, and head to the boardwalk inlet for the big event! Registration starts at 8:30 AM, with the walk starting at 9. Those who have raised funds for the walk are eligible for prizes. There is a $25 minimum for individuals, and for teams a $25 per team per member minimum.
There will be fun contests, with winners and prizes for largest dog, smallest dog, best dressed dog and best dog trick. Refreshments provided by Harrison's Harbor Watch Restaurant and Layton's Family Restaurant 16th Street.
For the out of town walkers, dog friendly hotels are available, including the La Quinta Inn & Suites, Comfort Inn & Suites, Fenwick Inn and Clarion.
The best part is if you don't have a furry friend to spend the day with, you can borrow one from the shelter! WCHS is allowing participants to "adopt" a shelter dog for the event. Arrangements must be made in advance by calling the shelter at 410-213-0146.
Cat owners are welcome too! Bring a Bring a photo of your cat to the walk with your contact information written on the back. A special prize basket will be awarded to the "cutest cat". Photos will not be returned and become property of WCHS.
For more information or to pre-register for the walk visit the event website or check out the Boardwalkin' for Pets facebook page.