Smyrna Police: Couple arrested for fighting in street, man reportedly assaults K-9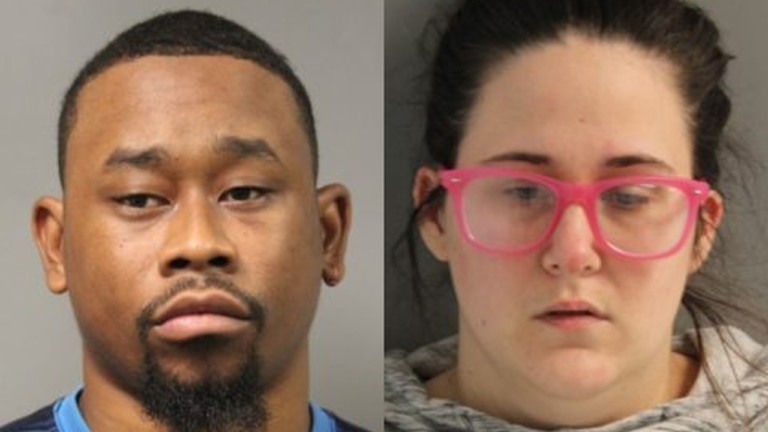 Smyrna Police say a Camden woman and a Smyrna man were arrested Wednesday night following a domestic dispute.
At around 10 PM, officers received a report of a fight in the middle of the street on East North Street. Officers found a couple in the middle of a dispute, with one officer recognizing the woman as 30-year-old Megan Eashum from an earlier dispute at the location.
Police learned that Eashum had several capiases out for her arrest and took her into custody. During this, the man, 28-year-old Brandon Pierce, reportedly became aggressive and tried to prevent officers from arresting Eashum. When police attempted to arrest Pierce, he ran away toward East Street, officials said.
Police say a K-9 unit that responded to the scene followed Pierce by vehicle until he left the street and ran behind a building. Officers released a police dog to follow and find Pierce, who was found hiding behind the building, officials said. As officers went to bring Pierce into custody, they say he struck and attempted to strangle the police dog.
Pierce was taken into custody and treated for injuries sustained during the incident. He is charged with attempted second degree assault on a law enforcement officer, criminal mischief over $1,000, resisting arrest, second degree assault on a law enforcement K-9 and disorderly conduct. Officials say the criminal mischief charge stems from damage to a vehicle that happened while Pierce and Eashum were fighting in the street.
Pierce was also charged with offensive touching and criminal mischief from an earlier domestic dispute that Smyrna Police were investigating. He was turned over to the custody of the Department of Corrections in default of $3,000 secured bond on the fight's charges and $200 unsecured bond from the earlier domestic dispute's two charges.
Eashum is charged with malicious interference with emergency communications from the earlier domestic dispute. She was transferred to the Department of Correction's custody in default of cash bail for her charges and capiases.