Riddle becomes first-ever Sussex Academy athletic signee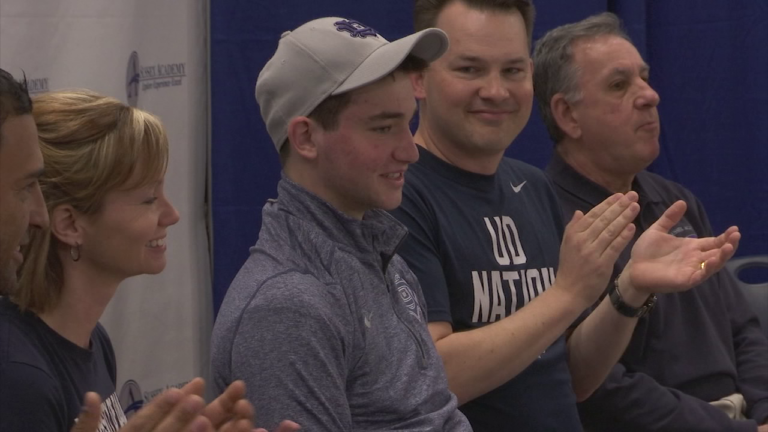 One of just 37 in his senior class, Nate Riddle became the first-ever at Sussex Academy to sign a letter of intent to play a sport in college. Riddle was presented a brick during the event with his favorite quote – be who you are, and be that well.
Born in Dallas, it will be a homecoming for the soccer standout, as he will be attending the University of Dallas, a Division III school, in the fall. Riddle says he plans to pursue a career in law.
Nate chose Dallas because he wanted a smaller catholic liberal arts school that also had a good soccer program.
For the school, it is a big step forward. Riddle is part of the first senior class at the fledgling school.
Originally a middle school, Sussex Academy moved to its current location four years ago and added a high school.
The school was showing signs of growth before Riddle's announcement. Back in January, the max amount of 110 new students were selected for the incoming freshman class via lottery.
Director of Curriculum Patricia Oliphant said though the school is at an enrollment of about 590 students, they hope to be at full capacity of between 700 and 750 within the next couple of years.
Academically, the main draw for new students is the school's International Baccalaureate program, a strict learning program that Nate was apart of.
Athletic Director Steve Bastianelli says Nate's accomplishments can help attract more students and help build the athletic and academic programs
"He's in a class of 37 seniors. So it's pretty impressive that he was willing to stay here and lead this team. The first team ever to make the state tournament. The first player ever to be first team all state for us."
The athletic program at Sussex Academy is expanding as well.
A new pool was donated to the school by Schell Brothers. A brand new softball field and two new turf fields make up the complex. There is talk of a long-term project for a new tennis court.
And a brand new concession stand is under construction. Outside of that concession stand will be a walkway complete with a brick with Riddle's quote.
"When I leave, I'm hoping that the brick isn't the only thing that I leave behind. I'm hoping that the brick is just something that they can remember the quote that I live by."
If you have a child between fifth and ninth grade, reside in Delaware, and would like to learn more on how to apply, visit their website at sussex academy-dot-org.