Monday Memo – February 6, 2017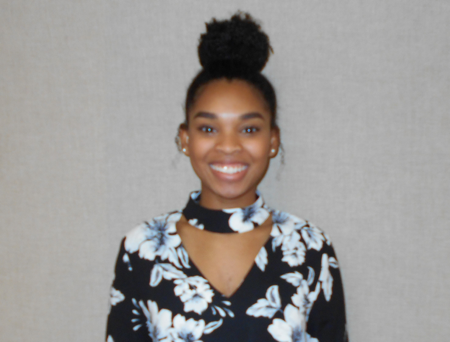 MONDAY MEMO
TO: ALL STAFF
FROM: KATHLEEN
DATE: 6 FEBRUARY 2017
MEET THE NEWEST MEMBERS OF OUR TEAM
Last Tuesday, Kristina Stull joined our Team as News Intern for her Spring Semester. She is a student at Salisbury University, majoring in Communications Media Studies with a minor in Political Science. Her employment history includes Our Lady of the Chesapeake Church in Pasadena, MD. Kristina also currently assists in the SU office by serving as a daily tour guide, working on advertising, and assisting new students during Admitted Students Day. Please join me in welcoming her to our Team.
Last Wednesday, Gabrielle Harmon, Producer, started with the News Department. She comes to us from Chesapeake, VA, where she earned a Master of Arts Degree in Journalism from Regent University in Virginia Beach. Prior to that she earned a BA in Communication from Old Dominion University in Norfolk, VA. Gabrielle's professional experience includes a News internship at WTKR News Channel 3 in Norfolk, a Social Media Administrator at Old Dominion and an intern in the Production Department at WVEC in Norfolk. She was a National Honors Society of Collegiate Scholars Member, Lambda Pi Eta and Hampton Roads Black Media Professionals. Please join me in welcoming her to our Team.
FEBRUARY SWEEPS REMINDER
The February Sweeps period begins this Thursday. For new employees, this is your reminder that "employee(s) or any member of their households may not participate in providing viewership information to Nielsen because of the possibility of conscious or unconscious bias in the reporting of their media behavior". We take this mandate very seriously and, should you receive any viewership reporting forms, you need to return them to Nielsen with a note explaining that, as a broadcaster, you cannot participate in their survey. In advance, thanks for your attention to this requirement.
AROUND THE STATION
Repairs to the water damaged janitor's storage area is nearly completed.
Exit lights were brought up to code last week as required in our most recent insurance renewal.
Maintenance work has now started in Studio.
Those who drive for the Station as part of their job are required to turn in current proof of personal insurance to the Business Office (due by 2/15).
STATION FREEBIE!
The winner of last week's Station Freebie of a 24-disc box set of "The Lucy Show" was Leland Miller. This week's Station Freebie is a season one box set of "Criminal Minds". Sign up for your chance to win on the bulletin board at the employee entrance. Per usual procedure, we will draw for a winner Friday morning and the announcement made in the next Monday Memo.
IN SERVICE TO THE COMMUNITY
NARCAN TRAINING for those who signed up last week will take place this afternoon at 3PM. It will be held in the Conference Room.
This Sunday afternoon, 12 February, at 2PM, 47 ABC will be airing "Breaking Heroin's Grip: Road to Recovery". This hour-long special on the devastating effects of heroin in Maryland was put together by MPT, MDDC and the DHMH and will be 38 minutes of information following five Maryland cases with an additional 20 minutes of call-ins. The 47 ABC News Department will be airing local information all this week and the Digital Department is building a resource list on the 47 ABC website.
SPECIALS ON 47 ABC THIS WEEK INCLUDE
Friday at 8 = "A Charlie Brown Valentine"
Sunday at 2 = "Breaking Heroin's Grip: Road to Recovery"
Watch for related news specials all this week
BIG DEALS THIS WEEK INCLUDE:
Monday = Jet Carpet in Salisbury ($50 voucher for $25)
Wednesday = Executive Transportation ($684 value for $275)
Friday = Georgetown Restaurant ($20 voucher for $10)
FEBRUARY IS
National Bird Feeding Month
National Mend a Broken Heart Month
National Parent Leadership Month
ALL THIS WEEK IS
Children's Authors and Illustrators Week
SPECIAL DAYS THIS WEEK INCLUDE:
Today is "Frozen Yogurt Day"
Tomorrow is "Wave ALL Your Fingers at Your Neighbors Day"
Wednesday is "Kite Flying Day"
Thursday is "Read in the Bathtub Day" and "Pizza Day" (no connection)
Saturday is "National Shut-in Visitation Day"
WE CURRENTLY HAVE SEVEN IMMEDIATE OPENINGS:
Studio Tech (part time): See Josh Lynch
MCO (part time/ fill in): see Ken Evans
Account Executive (full time): See Teri Monahan
Photographer (full time): See Josh Lynch
Meteorologist/Web Producer (full time): See Sarah Truitt
Sports Photographer (part time): See Sarah Truitt
Meteorologist/MMJ (full time): See Sarah Truitt
In-house candidates are encouraged to contact the respective Supervisor at their earliest convenience. If you know of someone who has the necessary qualifications and would be a good addition to our Team, please share the information about these openings with them. Brief job descriptions are posted on both bulletin boards and applications and more information can be found on our website. Marquee Broadcasting, Inc., along with its holdings, is an Equal Opportunity Employer.
Make it a great week!