From torn ACL to Pro, one Bennett Clipper's football story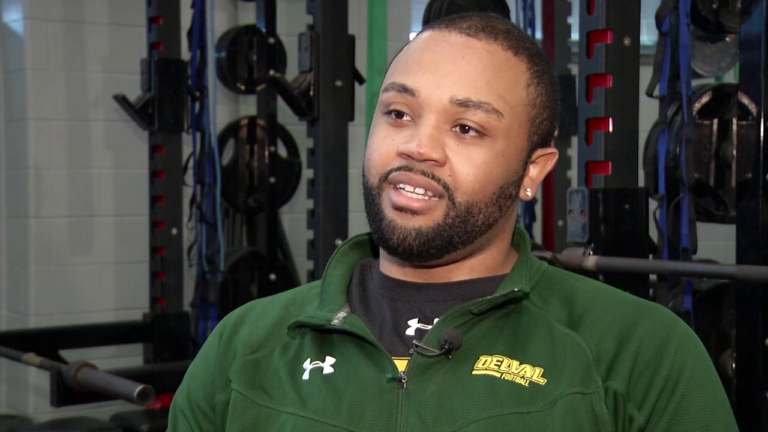 In less than two weeks Robert Reed will officially join the Western Michigan Ironmen, a professional indoor football team in the Champions Indoor Football League and will play offensive line. A dream realized for the former Bennett Clipper and a story that is truly the culmination of a long journey that almost ended before it really got going.
In his second practice with pads as young football player, Reed suffered an injury that could have been career ending.
"We had gone through a drill and I just winded up tackling a kid and it was just random it just popped," Reed said.
At age 13 Reed had torn the ACL in his left knee. An injury that would keep him away from football for almost three years.
Reed, who always dreamed of turning pro, always knew he would come back to football and in his freshman year of high school he returned to the field.
Reed would attend Henry E. Lackey High School in Charles County, but would spend only one year with their football program before attending Maryland football powerhouse, DeMatha Catholic.
As a program that consistently garnered national attention DeMatha was perfect fit for Reed and his plans of going pro, but life had other plans.
In 2007 the real estate market collapsed taking a tremendous toll on Reed's mother, who was working as a real estate agent and car saleswoman to make ends meet.
"Things became a lot harder on my mom, became a lot harder on my dad and we had to make a decision at the time over in that area or we move over to the Eastern Shore," Reed said.
The move brought Reed to James M. Bennett High School in Salisbury his third school high school in as many years. It was there Reed began to perfect his craft and realize his potential.
Over two years there Reed would help transform a losing program and lead them to a 6-5 record his junior year and then a 7-3 record his senior year.
"That was the transition that I'm no longer the little boy that's going to sit back and be quiet about everything and sit back and just keep taking whatever has been handed to me, I'm going to be the boy that changes the game and does this thing the right way," Reed said.
Reed finished a decorated high school career and had hopes of going division one for football, but again life dealt Reed a bad hand as his plans to go D-1 were dashed when an offer wasn't made to him from the university he had hoped attend.
Fortunately for Reed, after attending a college in Virginia for a short while he eventually found his way to Delaware Valley University, a top 25 division three football program.
At Del Val Reed realized he had a legitimate shot to turn pro, all he needed was someone to take a chance.
Reed said NFL scouts came and went, but nothing panned out.
"I had conversations with those guys but it was just talk at the time, you know. I didn't get anything out of it, but that was something that fueled the fire without a doubt," Reed said.
Again Reed found himself on the short end of the stick, but he didn't give up.
"I didn't even question it, it was just like just getting people around me. That was the biggest thing is I need people around me with that positive energy, with that positive vibe. The right coaches to give me the opportunity and I'll take it from there," Reed said.
It turned out the people he needed the most were right at home. Reed took a job helping coach junior varsity football at Bennett and in his spare time worked out.
The gym and the football team his therapeutic release for the hurt felt by not having the opportunity to turn pro.
"It killed my motivation a lot at times, but luckily I had these kids here to distract me from all that," Reed said.
It was coaching and the relentless training, that Reed credits for making him a professional.
That and the support of the lady who's had his back since day one, his mom Caroline
"I couldn't ask for a better mother, she's done things for me, she's put me in the best situation possible even when it wasn't possible for us financially, she's held me down in a way that I don't think a lot of people will ever understand," Reed said.
Now as a professional football player Reed said he feels like a kid all over again and has a message for any other young football player who might doubt their own dreams.
"Only thing that I want to tell a lot of kids right now is to have faith in your journey and remain humble along the way, there's nothing wrong with being proud of yourself and proud of what you've been able to accomplish, but be humble and understand the people that got you there… and never forget that," Reed said.
Reed said as of now his only goal is to bring a championship to Western Michigan and help them win games.
To see Reed's highlight film from college, just click here.
For more on Reed's new team, the Western Michigan Iron Men, click here.