Berlin family receives a Christmas miracle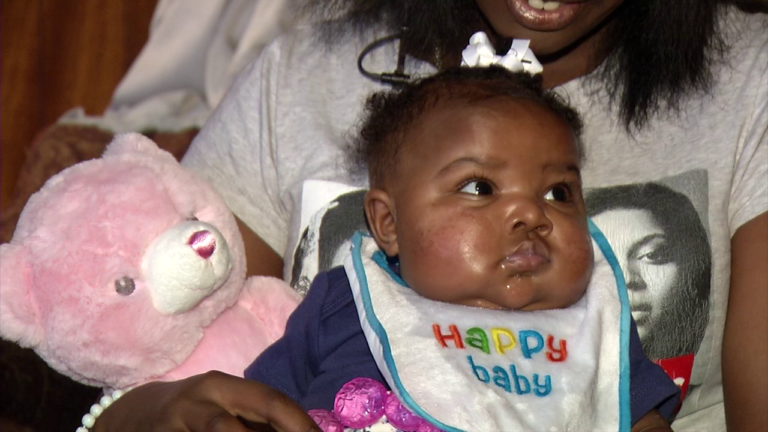 "She's a miracle baby, she really is…she's a fighter," says Rihanna's grandmother.
Rihanna Juliet Hollen was born on July 5th and is just now seeing the outside world for the first time. She's been inside hospital walls undergoing open-heart surgery since just two days after birth.
Rihanna's mom, 22-year-old Briana never thought she would make it home this year.
"They always say, 'oh yeah I think we're coming up on a date,' and I was like okay, I'll wait for it, but they gave me a date and said, 'the 27th you're going home,' and I just said wow! I was overwhelmed," explains Briana.
21 weeks into her pregnancy, Briana found out her daughter would be born with just half a heart.
It's a defect called hypoplastic left heart syndrome and requires major surgery. In fact the CDC says only 960 babies are born with it each year.
Since her birth, her mom tells us Rihanna has gone through more than most adults do in their entire lifetime, undergoing eight surgeries, four code blues and one cardiac arrest.
Briana says, "I would spend nights at the hospital, when she would have a little episode I would have to push the code buttons sometimes, so I stayed at the hospital."
Even though Briana couldn't hold her daughter until weeks after she was born, she never left Rihanna's side, even when her father passed away.
"Three months ago I lost my father so I had to drawn the line between going to his funeral but Rihanna was critical still, so it was like I don't want to leave her but I don't want to miss my father's funeral," explains Briana.

The strength both Briana and her baby have shown through these five months is nothing short of a miracle says grandmother Brenda, who put her job on hold to take care of the two.

"It's been a lot but like I said she grabbed hold of it, she always wanted her hand to do this and that [when it came to taking care of the baby] and that's what made it so easy for her to come home last night…she deserves mother of the year, you know, I'm super proud of her," says Brenda.
And now home just after Christmas, Rihanna babbles and giggles just like any five month old; no tubes or wires, finally in the comfort of her own home.
The grandma tells us it's the best Christmas present we could ever ask for.
Although, this is not the end of surgeries for Rihanna. When she turns three, she will undergo another heart surgery, which is common for babies born with hypoplastic left heart syndrome.
Babies with the condition have to undergo several surgeries to allow for their heart to function properly.
According to the Children's hospital, with this defect, the chambers and arteries on the left side of the heart are extremely small and underdeveloped.
So in order to compensate, the right side has to work double time and to fix the problem, babies undergo three major surgeries.
Rihanna has already had two of them and when she's three, she'll have the last one to ensure healthy, oxygen-rich blood flows throughout her body.