Blue Angels: Flying on, never forgetting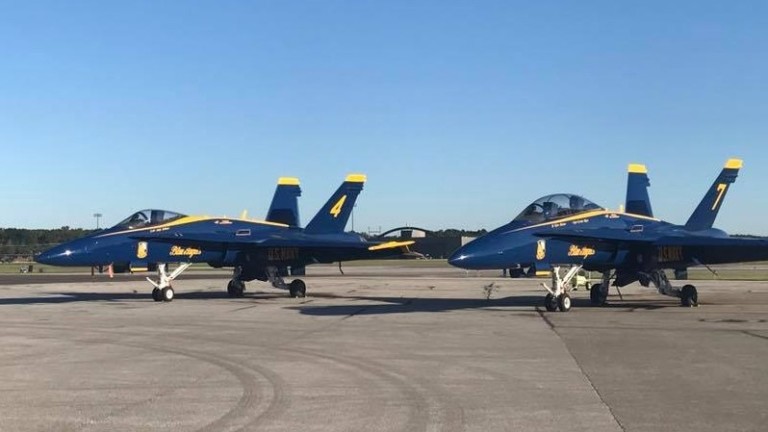 The U.S. Navy Blue Angels are on break right now, but soon enough they will begin winter training in California.
This is a time for the new team members and current crew to get ready for all the difficult maneuvers the Blue Angels are known for.
Their 2017 performance schedule is already out and it shows the Blues will be returning to Delmarva this coming summer.
The Blue Angels are headlining the 2017 Ocean City Air Show on June 17th and 18th.
2017 Appearance Schedule
March 11: El Centro, CA
March 18-19: China Lake, CA
March 25-26: Tuscaloosa, AL
April 1-2: NAS Corpus Christi, TX
April 8-9: Lakeland, FL
April 22-23: New Orleans, LA
April 29-30: MCAS Beaufort, SC
May 6-7: Bossier City, LA
May 13-14: Millington, TN
May 20-21: Goldsboro, NC
May 24 & 26: US Naval Academy Air Show & Graduation Flyover, MD
May 27-28: Millville, NJ
June 3-4: Duluth, MN
June 10-11: Scott AFB, IL
June 17-18: Ocean City, MD
June 24-25: Latrobe, PA
July 1-2: Offutt AFB, NE
July 8: Pensacola Beach, FL
July 15-16: Milwaukee, WI
July 22-23: Idaho Falls, ID
July 29-30: Oshkosh, WI
August 5-6: Seattle, WA
August 19-20: Chicago, IL
August 26-27: Brunswick, ME
September 2-3: Ypsilanti, MI
September 9-10: NAS Oceana, VA
September 16-17: Talladega Speedway, AL
September 23-24: San Diego, CA
September 30-Oct. 1: Durango, CO
October 7-8: San Francisco, CA
October 14-15: Kane'ohe Bay, HI
October 21-22: Fort Worth, TX
October 28-29: Rome, GA
November 4-5: NAS Jacksonville, FL
November 11-12: NAS Pensacola, FL
And if you missed any part of this Special Report about the Blue Angels check out the "MORE FROM WMDT" section on the above left.