UPDATE: Salisbury family locates missing dog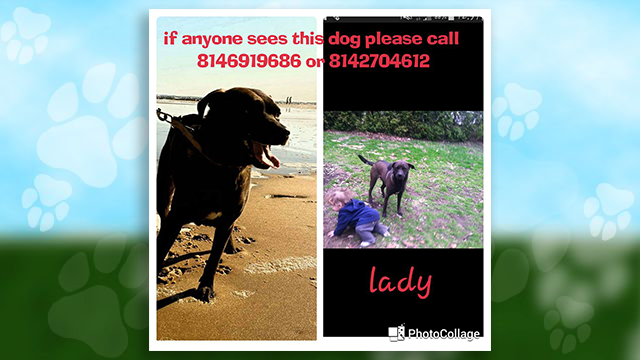 UPDATE: The missing dog, Lady, has apparently been located. She has since been reunited with her family.
—
A Salisbury family is searching for their missing dog. Latoya tells 47abc that "October 1st is the last time I got to see my doggie Lady, she went missing from Salisbury Md." Lady was apparently last seen in Fruitland, around Wye Oak Road, a few days after she went missing.
Latoya says "She's wearing no collar, but her marks are a white patch on her chest, with floppy ears. Shes part pitbull, chocolate lab and beagle. If anyone sees her, please let me know ASAP either way, no matter what time it is. I just want a sighting and I can get her back home to my children."
She continues "I've already worked with every shelter, hospital, vet, and animal control all the way to Princess Anne… she's posted on police and animal groups, dogs finding dogs FindToTo etc… and I already did have flyers post but someone ripped every single one down that I spent money on making. I've exhausted everything to look for her, please share."
A note for those looking out for Lady, she's apparently skiddish, so Latoya asks anyone who sees her to please do not chase her.
Latoya is asking that any sighting be reported to her via phone at 814-691-9686 or 814-270-4612.