Piedmont Airlines hosts sixth annual Salisbury Dash Pull for United Way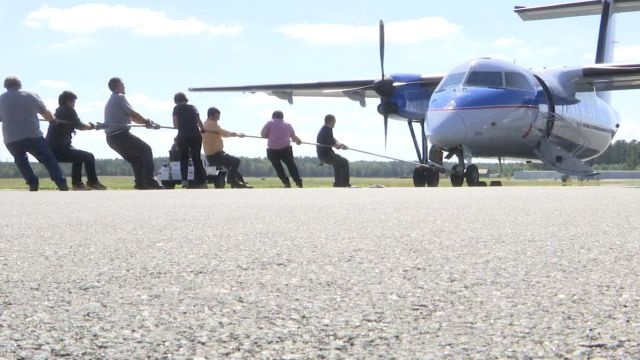 The Dash 8 aircraft weighs 28,000 pounds and community members are working together to pull it. It was the 6th year of the Salisbury Dash Pull hosted by Piedmont Airlines to raise money for the United Way.
The CEO and President, Lyle Hogg, says the event is a dash pull with teams made up of employees and community members who actually pull one of their aircrafts, a dash aid aircraft. As they are being timed, 8 teams pull the plane 15 feet forward to see who can cross the finish line the quickest.
Hogg says the idea came from U.S. Air, which used to have people pull a jet requiring 16 people.
Hogg states, "That's where it started it kind of mirrored the U.S. Air procedure, they have now stopped this program but we hope to continue it. It's just a lot of fun for our employees and a great team exercise for our employees as well."
Each participant pays $10 and the money goes directly to the United Way. This event is not the only way Piedmont gives back, their employees also contribute to the United Way through payroll deductions.
United Way's Assistant Director, Amy Luppens, tells 47 ABC that all the money goes to 74 programs focusing on helping people with different needs and goals, such as financial stability.
One team was announced the grand winner pulling the airplane the quickest but Luppens says the real winner in this situation is United Way and the community because teams are paying to pull and all of the proceeds benefit local programs.