List of those indicted in ECI conspiracy incident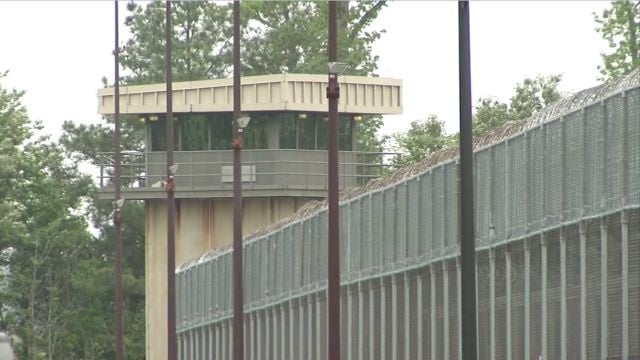 The following is a list of individuals named in the two indictments handed down by the Grand Jury for the District of Maryland on Thursday, September 29, 2016.  There are two indictments.
One outlines charges and suspects pertaining to alleged crimes committed in connection with ECI's West Compound and the other for the East Compound.
West Compound Indictment
 
Correctional Officers:
Aaron Bohl, age 34, of Parksley, Virginia
Rozlyn Bratten, age 31, of Snow Hill, Maryland
Rachelle Hankerson, age 26, of Salisbury, Maryland
David Hearn, age 54, of Eden, Maryland
Xavier Holden, age 27, of Salisbury
Jesse James Jones, age 27, of Delmar, Maryland
Thomas Leimbach, age 32, of Pocomoke City, Maryland
Kimberly Rayfield, age 37, of Crisfield, Maryland
Stephen Wise, age 34, of Pocomoke, Maryland
 
Inmates:
Mohammed Akram, age 34
Aaron Bell, age 34
Shawn Benbow, age 33
David Bond, age 30
Joseph Branch, age 35
Robert Costen, age 35
Michael Counts, age 37                                            
Travis Gie, age 24
Jamar Hutt, age 27
Samuel Johnson, age 36
Troy Johnson, age 37
Demario King, age 37
Mark Lance, age 36
Michael Page, age 35
Ternell Lucas, age 42
Shawn Sullivan, age 41
Kevin Stanley, age 36
 
Facilitators:
Reggie Fosque, age 26, of Princess Anne, Maryland
Cammay Gray, age 31, of Los Angeles, California
Chastity Harmon, age 40, of Princess Anne
Leondrus Higgins, age 29, of Salisbury, Maryland
Deonya Johnson, age 34, of Baltimore
Terrell King, age 23, of Chestertown, Maryland
Markayla Reynolds, age 23, of Salisbury
Chavia Savage, age 23, of Salisbury and Baltimore
Ronald Stewart, age 33, of Baltimore
Tyeacha Thomas Counts, age 34, of Columbia, Maryland
Kevin Thompson, age 37, of Baltimore
Trina Williams Johnson, age 44, of Baltimore
Angel Whittington, age 35, of Salisbury
East Compound Indictment
 
Correctional Officers:
Sherima Bell, age 37, of Pocomoke, Maryland
Erin Burfield, age 32, of Salisbury, Maryland
Jocelyn Byrd, age 39, of Salisbury
Erica Cook, age 32, of Snow Hill, Maryland
Travis Dennis, age 27, of Pittsville, Maryland
Aaron Ennis, age 35, of Hebron, Maryland
Donte Harris, age 26, of Kennisburg, Colorado
Jessica Vennie, age 27, of Crowley, Texas
Robert Waters, age 32, of Salisbury
 
Inmates:
Michael Andrews, age 27
Artie Bailey, age 31
Orlando Bowen, age 25
Jamar Butler, age 33
*Ramel Chase, age 34, of Glen Burnie, Maryland
Alexander Crippen, age 42
Maurice Fox, age 36
Stewart Gough, age 38
Darian Holmes, age 38
Marty Imes, age 35
Reginald Johnson, age 37
Zachary Martin, age 36
Devon Matos, age 33
Vincent Middleton, age 31
Michael Null, age 31
Sean Smith, age 25
Darrell Timms, age 32
Alvin Williams, age 35
 
Facilitators:
Keisha Barksdale, age 30, of Baltimore, Maryland
Eugene Bowen, age 51, of Salisbury, Maryland
Nicole Carpenter, age 29, of Denton, Maryland
Katrina Crippen, age 38, of Ft. Washington, Maryland
Darren Dale, age 29, of Salisbury, Maryland
Antoine Gray, age 44, of Ft. Washington, Maryland
Elvia Hall, age 46, of Baltimore, Maryland
Marcus Lisbon, age 37, of Brooklyn, Maryland
Miguel Matos, age 46, of Ft. Washington, Maryland
Samantha Oliver, age 28, of Baltimore, Maryland
**Apryl Robinson, age 32, of Baltimore, Maryland
Rahman Shabazz, age 50, of New York, New York
Rose Thomas, age 56, of Brooklyn, Maryland
Dameshia Vennie, age 34, of West Palm Beach, Florida
 
 
* recently released
**a former correctional officer who served with DPSCS from 2004 to 2007
Click Here to view indictment documents