"Costumed Dog Parade" at the 27th Annual Sea Witch Halloween & Fiddlers' Festival®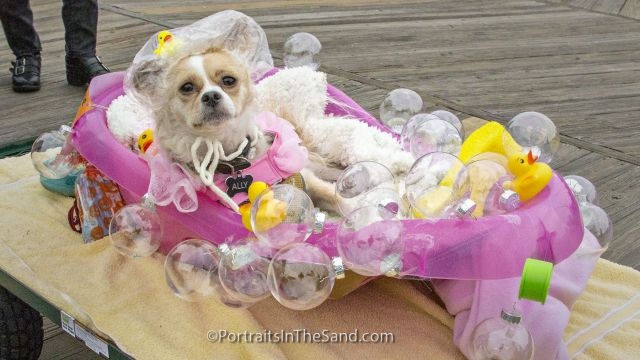 The Best Costumed Dog Contest as part of the 27th Annual Sea Witch Halloween & Fiddlers' Festival® will be on October 30.
Organizers say that dogs and owners will parade down the Boardwalk letting the crowds get a chance to see their outfits!
Line up will begin at 2PM, and dogs and their owners will register on Lakeview Avenue, next to the Henlopen Hotel, where they will receive their entry number and parade ribbon.
The registration fee is $5.00 per dog, and dogs will be judged immediately following registration and before parading. All registered participants will line up at the North end of the Boardwalk parallel to the beach.
Organizers say that participants should be prepared for a 1.5 mile walk including line-up, parade and return to Rehoboth Avenue from Laurel Street exit. So, they recommend you bring bottled water for your dog and yourself!
Dogs with aggressive behavior will not be allowed to participate, and for safety reasons, the use of a muzzle is encouraged.
The official monster parade will begin down the Boardwalk at 3PM, and the parade will proceed south on the Boardwalk from the Henlopen Hotel to the Star of the Sea Condominium at Laurel Street.
Participants will exit the Boardwalk and proceed down Laurel Street, turning right onto King Charles Avenue/First Street. From King Charles Avenue/First Street participants can proceed back towards the Rehoboth Bandstand and Boardwalk via Rehoboth Avenue & disperse.
Organizers say that the top 30 Judge's Favorite entries will be announced and showcased on stage at the Rehoboth Bandstand at 4:30PM, and all winners will receive a prize donated by Tail Bangers.
SPECIAL NOTES: Dogs only in parade; no livestock, wild animals or reptiles. For safety reasons, the use of muzzles is encouraged. Non-motorized small floats, wagons, etc. may be used on the Boardwalk but may not be brought on the Bandstand; only leashed or carried dogs will be received on the stage.
You can visit the website http://www.beach-fun.com for complete program information. 
Or, for more festival or area information, please contact the Rehoboth Beach-Dewey Beach Chamber of Commerce at 800-441-1329 x0, 302-227-2233 x0, 02 or via email at rehoboth@beach-fun.com.