City of Salisbury releases Monday storm update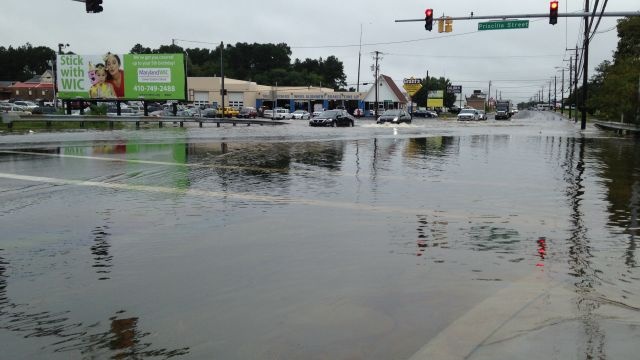 According to a release from the Salisbury Mayor's Office, after last week's storm, water levels across the Salisbury have gone down, however cleanup efforts continue.
The office reports the following to describe the situation as of 11:00AM on Monday:
Over the weekend, Public Works crews removed debris at West Rd. to speed up the drainage of water at the Coty Cox branch, south of Delaware Avenue. Water levels remain well above normal at the intersection of Delaware Ave. and Rose St., but most of the area is once again passable to motor vehicle traffic.  
Several families from the Delaware Ave. and Canal Woods neighborhoods are displaced and in need of assistance.  Donations of non-perishable food, clothing-All sizes in men's, women's, and children's styles, toys, furniture, pet food, and other household necessities can be dropped off between the hours of 8:30 a.m. and 4:30 p.m. at the following locations:
Salisbury Police Headquarters

699 W. Salisbury Parkway
Contact 410-548-3165 for more information

Salisbury Neighborhood Housing Services

540 Riverside Dr., Suite 18
Contact: Alison Pulcher – 410-543-4626
The Salisbury Zoo will remain closed Monday to allow Zoo staff to evaluate conditions, and return animals to their enclosures.  If conditions allow, the Zoo will reopen on Tuesday, October 4th.cd

The City has received multiple calls from volunteer groups offering to assist in Zoo and City Park cleanup efforts.  If you would like to participate in a group cleanup day, call the Mayor's office at 410-548-3100 for more details.  More information will be released once a date has been identified.
Next Monday, October 10th is a regularly-scheduled bulk trash pickup day.  Public Works will be offering an additional bulk pickup day sometime within the next two weeks to assist citizens in the disposal of debris and yard waste associated with this storm event.  The date for this additional bulk pickup will be announced once it has been identified.
The City of Salisbury say that Public Works crews continue to monitor and clean storm drains to make sure that they are clear of debris, and that water is moving freely. Citizens who notice a clogged or obstructed storm drain are encouraged to notify Public Works at 410-548-3170, or via the Salisbury app on iPhone and Android.