3rd Friday is back with everyone's favorite, COMIC CON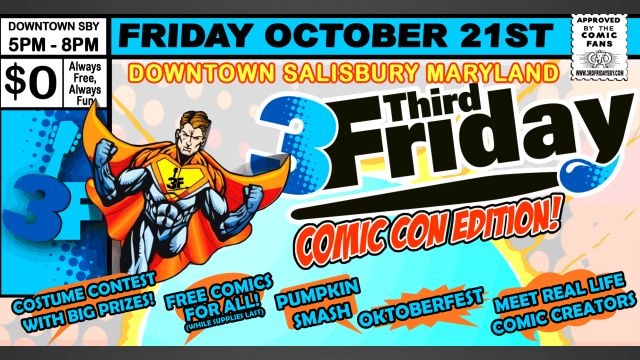 3rd Friday in downtown Salisbury is back this week, and this month's theme is the fan favorite, COMIC CON!
It may not be Halloween yet, but it's never too early to dress up ad your favorite super hero, villain, or comic book character.
Organizers say that people can come in costume, even making up an original character, and enter the 3rd Friday Costume Contest. Winners will take home prizes like collectibles, toys, comic books, and gift certificates provided by Phoenix Rising, PLB Comics, and 3rd Friday! The contest is open to anyone, and will be broken down into two categories, kids 12 and under and adults 13 and up. Registration for the contest will start at 5PM and end at 6PM, with the contest starting at 6:15PM on the Government Office Building steps on North Division Street.  
Feet of Fire Dance Troupe will perform their Halloween routine at 6PM, also on North Division Street.  
Another fan favorite returning is the 3rd Friday Pumpkin Smash!
You can even meet Salisbury's local hometown heroes and charitable organizations like Operation We Care, SBY Hero Day, and the Salisbury Army Recruiting Center. Salisbury University's Kappa Sigma Fraternity will also be selling support wristbands for Wounded Warriors.
Check out some more features for this 3rd Friday, below:
The main stage will feature live music by Alternate Endings from 5-8pm.  
The Community Players will make a special appearance at 6pm, performing a preview of their latest production Beauty and the Beast, followed by the Bay Brass Ensemble with Oktoberfest music!  
47 ABC will be on the Plaza with giveaways from their networks' superhero hits, like CW3's The Flash, Arrow, DC Legends of Tomorrow, Supergirl, and ABC's Marvel's Agent of SHIELD. 
Kids can meet local comic book creators, like PLB Comics, and even create their own comics hosted by the Salisbury Art Space!  
On St. Peters Street, Salisbury Jaycees will be pouring local beer and wine selections.  St. Peters Episcopal Church will have superheroes, fun and lots of games and prizes for kids of all ages in the St. Peters courtyard, hosted by The Trailblazers Youth Group. Plus celebrate Oktoberfest with burgers, dogs, brats & kraut and pork sandwiches!
Salisbury University Art Galleries | Downtown Campus, will host activities in the Gallery Building, on the Plaza level just across from Maya Bella's Pizzeria.  As part of the series titled Information | Black Culture in Contemporary Art, SU Galleries will host Baltimore Boom Bap Society with a performance from 5-7pm and an open mic session for the community from 7-8pm.  The improvised hip hop series is conceived as a forum for experimentation and collaboration between local hip hop artists, while placing hip hop in dialogue with other forms of music.
Many downtown shops and boutiques will be open late with special events and sales:
Cake Art will be hosting "create-your-own cupcakes" with fun fall toppings just fall like Pumpkin Spice and Maple Pecan.
Acorn Market will be open late with live music from Alex & Shiloh and tons of special activities for the kids.
At Barefoot Baby Boutique, local artist Janell Willey will be personalizing our USA-made wooden toys by painting a design or your child's name on it, so stop on by and select an in-stock toys or pre-order for Christmas!  
Kuhn's Jewelers is introducing a brand new line, Mattiloi Puzzle Earrings, and this 3rd Friday you can enter- to-win a pair of mother of pearl trapezoid shaped earrings, plus a special visit by catwoman.  
Main Roots Coffee is kicking off an Avett Brothers ticket giveaway, who are performing at the Civic Center on November 19th. Entry is based on transactions the 17th – 21st with the winner announced on Oct 22nd, so be sure to stop by! Plus try their new featured drink of the month titled "The Avett" benefiting Wags & Wishes, Hungry For Music, & St. Jude Children's Research Hospital.
The downtown bars and restaurants are also ready for 3rd Friday!
Headquarters Live is having a free show just for 3rd Friday with local rockers EastWood and Naked Nation, doors open at 6, show starts at 8, and you must be 21+.  
Roadie Joe's will have live music from Dark Gold Jazz on the patio from 5:30 – 8:30 followed by the Human Connection and DJ E-STATE from 10 until two.  
Brew River will have an all ages Friday Night Dock Party with Mallory Lankford and Melissa Mulrine 6-10 and DJ BSide late night.  
Market Street will have DJ Juan late night
Mojo's will have local rockers EastWood!   
Downtown Trolley service will start earlier just for 3rd Friday, at 5 PM in front of the Academic Commons Building at SU and will run until 7 PM. Service will resume later that night at 9 PM and run until 2 AM. Boarding is FREE for SU students with gull card or $1 per boarding and will bring you from Salisbury University and surrounding areas to Downtown's 3rd Friday festivities. Swing by the Downtown Salisbury Visitor Center and try the Official Hula Hoop Challenge! If you can hula hoop for 2 minutes straight, you will win a free calendar!
For More Information, visit 3rdFridaySby.com