UD Runs Past DSU In Season Opener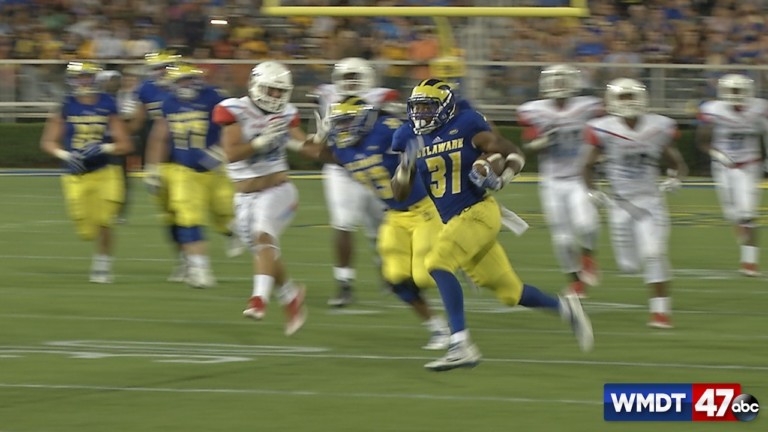 The University of Delaware football team rolled past Delaware State on Thursday night in both teams opening game 56-14. The Blue Hens improved to 1-0 while the Hornets dropped to 0-1 on the season.
UD came right out of the gates and enforced their will on the running game. The marched down the field and capped off a short 2 yard touchdown run by Jalen Randolph. The Hornets would then have a big return to set up good field position, before Daniel Epperson threw the first of his 3 interceptions. The Blue Hens would convert the turnover into another quick score after quarterback Joe Walker would get in off a sneak to the left side. DSU would be down 14-0 headed into the second quarter before another turnover would set up UD with good field position. Wes Hills then scored on back to back possessions to push the lead to 28-0 going into half. Delaware State then gave up another score to open the second half before finally getting their offense going. Koibe Lain would march his team down the field before getting knocked out by a big hit on the 5 yard line. Epperson would come in an throw a perfect fade to the left side that Mason Rutherford would haul in. UD would answer with a couple more scores before the Hornets found the endzone one more time late. Logan Wescott would finish with a career game for the Hornets, recording 14 tackles, including .5 for loss. The Blue Hens finished with 395 rushing yards.
DSU returns to work on September 10th when they host Monmouth.