Sept. 2 – Being Raised Alone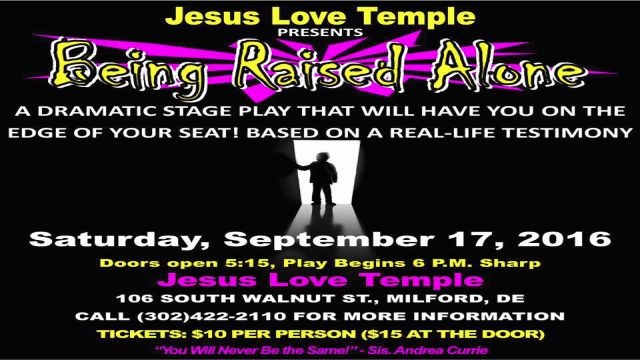 Are you looking for inspiration? Are you motivated by stories of triumph over tragedy? Do you have a friend you'd like to encourage through a rough season? Then Being Raised Alone is the play for you!
Based on a real-life story of survival, this play by Jesus Love Temple in Milford, DE will have you on the edge of your seat, laughing, crying, singing, and believing.
Advanced Tickets are only $10 ($15 at the door.) Call (302)422-2110 for more information. Get your tickets on EventBrite or at these locations: Jesus Love Temple (Milford, DE), Simplicity Salon (Lewes, DE), ChristianMart (Milford, DE), or G&F BarberShop (Milford, DE)
The play is on Saturday, September 17, 2016 from 6:00 PM to 8:30 PM at the JESUS LOVE TEMPLE – 106 South Walnut Street, Milford, DE 19963