"MD Proud" license plate to be released on Sept. 26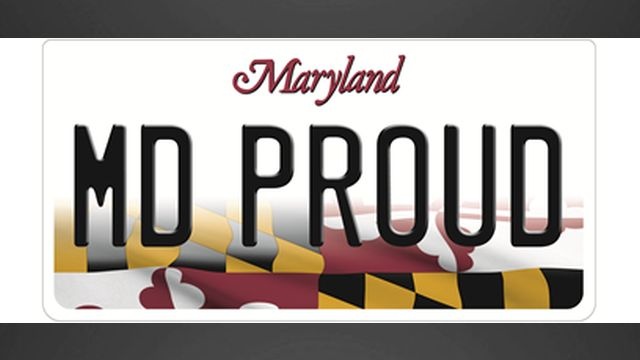 The Maryland Vehicle Administration will release the new Maryland Proud license plate on Monday.
Governor Larry Hogan unveiled the new design in August, and the new standard-issue plate will be available for all passenger cars, SUV's, trucks, motorcycles, and multipurpose vehicles.  
"From the driver's license to the license plate, Marylanders can show their state pride wherever they travel," said Transportation Secretary Pete Rahn.
MVA officials say the new plate meets all state standards and has passed all law-enforcement testing for readability.  
Also, the Maryland Proud plate will replace the War of 1812 plate, but customers who want to keep their existing plates do not need to get the new plate.
Officials say those who want to replace their existing license plates will still pay the current $20 replacement cost, and registration renewal costs remain unchanged.
Customers should also keep in mind that all vehicles purchased on or after September 26 will be issued the new plate, unless customers want to transfer their existing plates to their vehicles.
"We anticipate that the beautifully designed Maryland Proud plates will be very popular and strongly encourage our customers to order them online," said MVA Administrator Christine E. Nizer.  
In order to order the new Maryland Proud plate after September 26, visit the MVA website, and click Online Services. The MVA states that new plates should arrive in the mail within 7 to 10 business days.  
To learn more about the MVA, visit the FAQ page to learn more.