3rd Friday will be back with "Mad Science" theme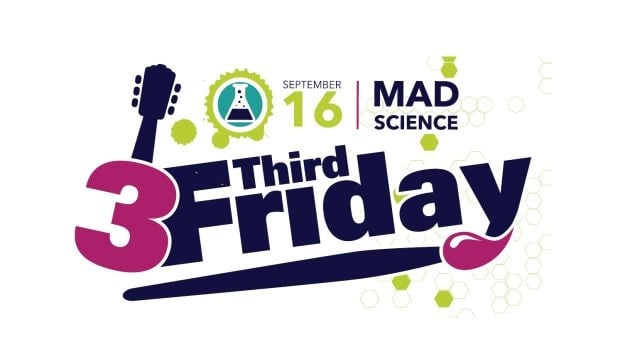 September 16 is the next 3rd Friday in Downtown Salisbury!
Schools back and 3rd Friday is ready with a MAD SCIENCE theme!
On North Division Street, organizers say that The Mad Science Lab will amaze and astound with wacky experiments and interactive demonstrations, complete with liquid nitrogen and rockets. Local science clubs and organizations will also be there, including M-4 Reactor, who will be 3D Printing.
Women Supporting Women will be going mad for science research, hosting their very first Pink Drag Race in Downtown Salisbury, where racers break out their pink tutus, boas and tiaras and race the street in sneakers in support of our local breast cancer organization.  
On the Plaza, artists, crafters and non-profits will fill the streets.  
The main stage will feature live music by local jazz group, The Larks.  
Kids can experiment with art projects hosted by The Ward Museum and Salisbury Art Space up on the Plaza
On St. Peters Street, Salisbury Jaycees will be pouring local beer and wine selections.  
St. Peters Episcopal Church will have grilled burgers & chili dogs, snacks and drinks for sale in the Courtyard, plus fun mad science experiments for kids to try!  
Salisbury University Art Galleries | Downtown Campus, will also hosting activities in the Gallery Building, on the Plaza level just across from Maya Bella's Pizzeria, in their new temporary home with a series titled Information | Black Culture in Contemporary Art.  
 
The downtown shops and boutiques open late with special events and sales:
Seasons Best Antiques will be offering refreshments, huge sales and door prizes ahead of their anniversary sale on the 24th.   
Maya Bella's Pizzeria will be celebrating their 3rd birthday party with free balloons for kids while supplies last
Cake Art will be hosting create your own cupcakes with special toppings just for the Mad Science theme
Acorn Market will be open late with live music from North Meets South
Angello's Unique Gifts will be doing samplings of their new beauty line Farmhouse Fresh, wine samplings and an end of summer sale
Corsets and Cogs will be offering 20% off of goggles for all of the mad scientists out there
Axe To Grind Sharpening will be offering 10% off of all sharpening and sewing machine repairs
Olde Town Deli will also be open late, and celebrating Back to School with 10% off discounts on all their amazing soups, sandwiches and baked goods for all educators!  
The downtown bars and restaurants are ready for 3rd Friday!
Headquarters Live is having a free show just for 3rd Friday with rocker Hot Tub Limo playing all your favorites at 9pm with local opening acts starting at 6:30.  
Roadie Joe's will have live music from Alex & Shiloh on the patio from 5:30 – 8:30 followed by DJ Blendz from 10 until two.  
Brew River will have an all ages Friday Night Dock Party with Mallory Lankford and Melissa Mulrine 6-10 and DJ BSide late night.
Market Street will have DJ Juan late night
Mojo's will have local rockers EastWood!
Downtown Trolley service will start earlier just for 3rd Friday, at 5 PM in front of the Academic Commons Building at SU and will run until 7 PM.
Service will resume later that night at 9 PM and run until 2 AM. Boarding is FREE for SU students with gull card or $1 per boarding and will bring you from Salisbury University and surrounding areas to Downtown's 3rd Friday festivities.
Organizers describe 3rd Friday as a downtown economic development initiative and a project of the Salisbury Arts & Entertainment District and The City of Salisbury.
For More Information, visit this website.