Wicomico Co. Fair schedule announced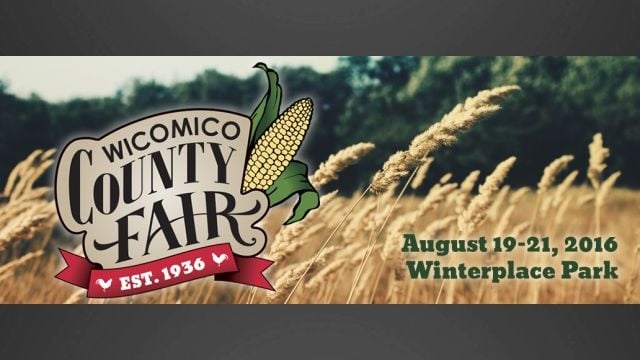 The Wicomico County Fair will take place August 19-21 at Winterplace Park in Salisbury.
The event is hosted by the Wicomico Farm & Home Show and the Salisbury Area Chamber of Commerce. Organizers say there will be something for everyone to enjoy at this free, three-day event.
The hours are Friday, August 19 from 2-10 PM, Saturday, August 20 from 10 AM-10 PM, and Sunday, August 21 from 11 AM-6 PM.
The fairgrounds will open at 2 PM on Friday with a ribbon cutting ceremony. Event attendees can enjoy rides, amusements, livestock exhibits, and lots of delicious food and beverage choices including the beer and wine garden.
The Salisbury Lions Club will be cooking their famous fried chicken in the 5 Foot Fry Pan all weekend, and attendees can see the classic car show starting at 4 PM on Friday. The chicken and cornbread contests will start at 6:30 PM with a cake auction to follow at 7 PM. J&J Shop Heliair will be offering helicopter rides throughout the weekend, starting on Friday, and there will also be various Tickled Paint – paint shows throughout the weekend.
Also, don't forget to visit the Carriage House during the fair to see all the indoor entries which will include 4-H entries, arts and crafts, fruits and vegetable, baked goods, woodworking and more. Live entertainment will start Friday afternoon as Dylan & Troy take the stage at 2:30 PM, followed by Red No Blue at 5 PM and Front Page News at 6:30 PM.
Fair entertainment is sponsored by Robinson's Family of Business, Wire Works, and Hebron Savings Bank. Friday night will conclude with a fireworks show sponsored by Perdue Farms at 8:30 PM and entertainment by The Funsters at 9 PM.
On Saturday, the fairgrounds open at 10 AM with rides and amusements, the Wicomico Public Library's lego challenge and a jeep show hosted by Hogs and Heroes. There will be a lot of educational activities throughout the weekend to help children learn about the poultry and agriculture industries including the Delmarva Poultry Industry Chick Tent and Incubator and Wicomico County Extension's Education Corner.
See the livestock exhibits throughout the day, the Delmarva Tractor Pullers, K9 Demonstrations with the Wicomcio County Sherriff's Department, and various community performers on the entertainment stage. Also, be sure to stop by the Shore Fresh Farmer's Market from 1-4 PM, the Hogs and Heroes motorcycle show at 1:30 PM, and also visit the business and community booths around the fairgrounds and in the Carriage House.
Saturday evening activities include the Look Pretty, Play Dirty Petting Zoo, the highly anticipated Mason Dixon Deputies Mounted Shooting Competition, and a benefit auction. Evening entertainment will kick off with Beauty for Ashes at 5 PM, Red Sammy at 6:30 PM and Petting Hendrix to close the night from 8:30-10 PM.
Finally, on Sunday, the fairgrounds open at 11 AM.A church service led by Reverend Oren Perdue of Salisbury Baptist  Church will be open to the public, and rides and amusements begin when the fair opens with an unlimited riding wristband option. The Touch-A-Truck Show starts at 12 PM, along with the second day of the Mason Dixon Deputies Mounted Shooting Competition and the Delmarva Coon Hunter's mule show.
Enjoy livestock showings in the barn, community performers, educational exhibits and business and community booths throughout the day. Sunday is also  "Bluegrass Sunday" on the entertainment stage with performances by Charles Paparella at 12:30 PM, Blind Wind at 2:30 PM, and No Spare Time at 4:30 PM. The awards presentation will begin at 4:30 PM on Sunday afternoon.
Organizers say The Wicomico County Fair is made possible through support by Gateway Subaru, Pepsi, Perdue Farms, Salisbury Independent, Froggy 99.9, Mountaire and Big 98.5.
For more information please visit the website, here.