UPDATED PHOTO: Governor Hogan unveils new Maryland license plate design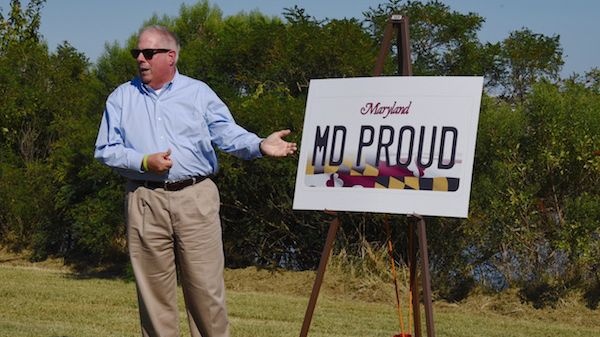 Following an announcement concerning the Chesapeake Bay Crossing on Tuesday, Governor Hogan unveiled Maryland's new license plate design, which will feature the Maryland flag front and center.
The Maryland Department of Transportation's Motor Vehicle Administration will start issuing the new plate on Monday, September 26 for all passenger cars, SUVs, trucks, motorcycles, and multipurpose vehicles.
"You would be hard pressed to find another state that has more pride than our great state of Maryland," said Governor Hogan. "Earlier this year we launched our newly redesigned, state-of-the-art, Maryland-themed driver's licenses, using our beautiful flag for inspiration. Now, Marylanders will have yet another way to show their state pride, with our new 'Maryland Proud' standard-issue license plate."
The new plate reportedly meets all state standards and has passed all law-enforcement testing for readability. According to the report, the new standard-issue plate will replace the War of 1812 plate, but customers who want to keep their existing plates do not need to get the new plate.
Those who want to replace their existing license plates will apparently pay the current $20 replacement cost, and registration renewal costs remain unchanged.
Officials say that all vehicles purchased on/after September 26 will be issued the new plate unless customers want to transfer their existing plates to their vehicles.
"We think these beautifully designed plates will be very popular and strongly encourage our customers to skip the trip to the MVA and order them online," said Secretary Rahn.
The War of 1812 plate was first issued in June 2010 and was scheduled to be in circulation during the Star Spangled commemoration. It is apparently standard practice to update the Maryland license plate every few years.
All Maryland license plates are manufactured by Maryland Correctional Enterprises, a division of the Department of Public Safety and Correctional Services. MVA issues approximately 740,000 sets of license plates per year.
To order the new Maryland Proud plate after September 26, visit the MVA website, and click Online Services.