Three arrested after reported meth lab operation in Kent County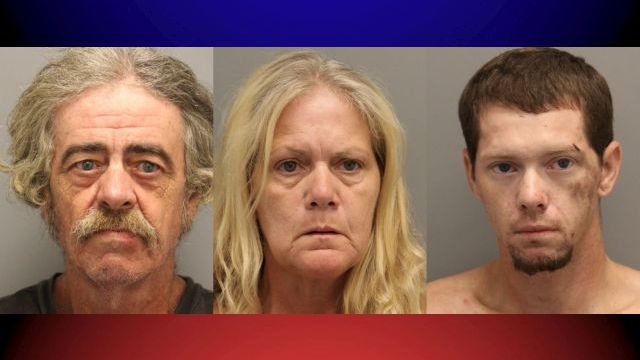 Delaware State Police says that three people have been arrested after a reported meth lab operation in Houston.
The Delaware State Police Kent County Drug Unit arrested 30-year-old Brian L. McGinnis, 52-year-old Linda A. Walsh, and 58-year-old Barry D. Lituski, of Houston after a two week investigation by police into the production of meth at a home on Williamsville Road.
Police say on Monday at about 8PM, the Kent County Drug Unit with the Kent County Governors Task Force were called to Williamsville Road to give a probation adminstrative warrant because of an ongoing investigation into a meth operation at the house, where they found Lituski, Walsh and McGinnis. Police say there was a search of the property where detectives found equipment and component mixtures of the production stages of meth with key ingredients in making the drug. They also reportedly found more than one gram of meth.
All three suspects were taken to Troop three in Camden, and charged with operating a clandestine laboratory, and second conspiracy   Brian McGinnis was additionally charged with possession of drug paraphernalia. McGinnis was ordered to be held on more than $12,000 bond, Lituski was ordered to be held on $2,500 bond, and Walsh was arraigned and held on $3,000 bond.
Police say no evacuations were ordered because there was no immediate danger to nearby residents. DNREC also reportedly went to the home to help with the search and control over the substances.
All three were reportedly arrested without incident.