The Latest: Woman recounts experience in Maryland flooding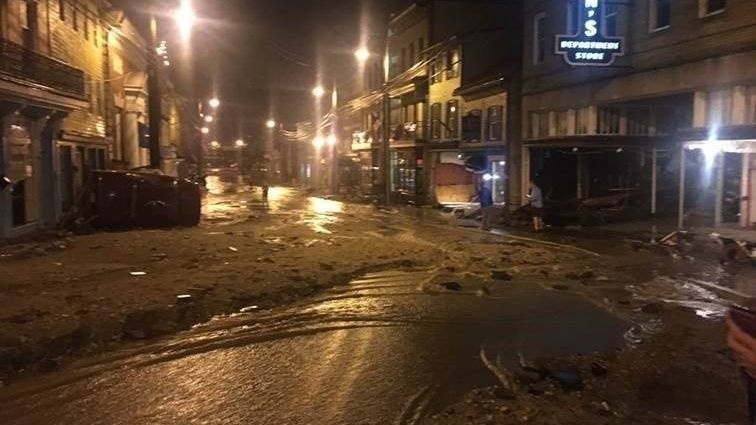 (AP) – The Latest on flash flooding in central Maryland (all times local):
9:25 a.m.
Thirty-five-year-old Courtney Weglein was headed to Ellicott City's historic downtown in Maryland to meet friends Saturday night. But as she prepared to make a run for a friend's apartment in the rain, water rushing down the steep street suddenly became more furious, knocking her against the car and locking her keys inside.
 
When she got to Jonathan Butkus' second-floor apartment, Weglein says water was coming in and the landlord soon said people had to get out.
 
Outside, they found choppy water up to the hoods of cars and watched as Weglein's car slammed into another. They realized a teenage boy was in a nearby car and she captured video of Butkus carrying him to safety on his shoulders through knee-high water.
 
As water continued rising, Weglein says she hugged the others there and feared she'd never see her 2-year-old son again. When the water went down, they walked out to find incredible damage. "Then we found out people died and then it hit us."
 
___
 
7:10 a.m.
 
County and state officials in Maryland are gathering recovery resources for people affected by flooding over the weekend in Ellicott City.
 
Howard County Executive Allan Kittleman and Lt. Gov. Boyd Rutherford plan to attend the recovery and information session for residents and businesses Monday afternoon with representatives of county and state agencies and nonprofits offering resources.
 
Two people were killed when the town about 14 miles west of Baltimore took on 6.5 inches of water within hours Saturday night.
 
Kittleman said in a statement that more than 200 properties were inspected Sunday and four to five of them are considered destroyed and another 20 to 30 suffered substantial damage. He says many structures, sidewalks and roadways are still unstable and it's not clear when people will be allowed to return. Utilities have been shut down in the area while repairs are made.
 
In the meantime, county and state police have secured the area.
 
___
 
3:15 a.m.
 
The picturesque Main Street of Ellicott City, Maryland, faces a months-long recovery that could cost hundreds of millions of dollars after devastating flooding that damaged nearly every home and business along the road.
 
Two people were killed when the town about 14 miles west of Baltimore took on 6.5 inches of water Saturday night, most of it between 7 p.m. and 9 p.m.
 
The floodwaters swept away hundreds of cars, tore up sidewalks and wrecked storefronts and building foundations.
 
Police say a Pennsylvania woman visiting the town with her family was one of those killed after their car was caught in the raging floodwaters and carried toward the Patapsco River.