The Latest: Fire danger expected to expand in West, East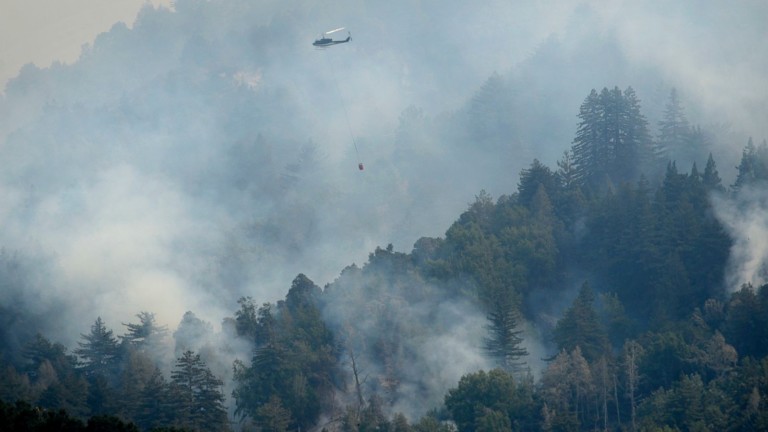 (AP) – The Latest on wildfires burning in the Western U.S. (all times local):
1:15 p.m.
Forecasters say the threat of significant wildfires will expand into parts of Oregon, Montana and Wyoming this month, while a broad swath of the South and the East Coast will see increased danger later in the year.
 
The National Interagency Fire Center's monthly outlook , released Monday, says the the potential for big fires will remain above normal during August in parts of California, Idaho, Nevada and Utah because of dry grass and bushes.
 
By September, the fire threat is expected to swing back toward normal over much of the West but increase in the South.
 
By October and November, the potential for significant wildfires is expected to be above normal in an arc of states from Texas to New Jersey.
 
___
 
12:05 p.m.
 
Officials say two specially equipped military cargo planes have been made available to drop fire retardant on blazes burning across the West.
 
The National Interagency Fire Center in Boise, Idaho, said Tuesday that the C-130s are expected to be ready for firefighting missions on Wednesday.
 
Each can drop 3,000 gallons of fire retardant in as little as five seconds.
 
The C-130s can be mobilized when the civilian tanker fleet is stretched thin.
 
Initially, they'll be based in Boise, home of the center that coordinates wildfire-fighting efforts nationwide.
 
___
 
11:55 a.m.
 
Officials are reporting 60 percent containment of an 8-square-mile wildfire sparked by lightning on a mountain in northwest Nevada.
 
There have been no injuries and no structures are immediately threatened by the fire in the Poodle Mountain area, about 100 miles north of Reno.
 
Winds are forecast later in the day.
 
Fire commander Glen Uhlig says about 415 firefighters are working in hot, dry conditions to prevent the fire from crossing State Route 447, near Squaw Creek Reservoir.
 
They were aided by air tankers and helicopters.
 
In eastern Nevada, officials are reporting 80 percent containment of a 1.3-square-mile wildfire on public rangeland about 95 miles northeast of Las Vegas.
 
___
 
11:45 a.m.
 
Firefighters were bracing for strong winds and authorities have ordered more evacuations during a fire in western Montana that destroyed 14 homes and may have contributed to a death.
 
The fire started Sunday and has burned 5.7 square miles in Bitterroot National Forest.
 
Residents were allowed back into the burned area Monday evening, but the area was closed again Tuesday and the evacuation zone expanded because high winds and low humidity were forecast.
 
Ravalli County Sheriff Chris Hoffman says his undersheriff toured the burned area and said it looked like a moonscape.
 
Fire information officer Mike Cook says the 200 firefighters working the blaze were trying to hold onto gains made Monday and protect homes.
 
___
10:35 a.m.
A wildfire north of scenic Big Sur near California's Central Coast spread again overnight and has now charred more than 67 square miles.
 
The blaze that broke out July 22 has destroyed 57 homes and is threatening 2,000 additional structures. It was less than 18 percent contained Tuesday.
 
Firefighters on Monday got help from a spike in humidity and lower temperatures, and they are hopeful for more of the same Tuesday.
 
Officials say more than 5,400 firefighters from across California are fighting the fire in steep terrain that is considered some of the most extreme in the United States.
 
All California State Parks from Point Lobos State Natural Reserve through Julia Pfeiffer Burns State Park are closed until further notice. Full containment is not expected until Aug. 31.
 
___
 
9:40 a.m.
 
More than 1,400 firefighters are battling a blaze in southwest Idaho that has grown to 66 square miles and destroyed a state-operated backcountry structure.
 
Officials say the fire expanded by about 5 square miles Tuesday in rugged terrain and was nearly 30 percent contained. It's not expected to be fully contained until mid-September.
 
Crews plan to build fire lines and use previous wildfire burn scars to try to prevent the fire from moving farther north.
 
The $60,000 yurt that burned is a round, tent-like structure with a dome roof and plastic skin.
 
The Idaho Department of Parks and Recreation has five other yurts it manages as part of an agreement with the Boise National Forest, and several remain threatened.
 
___
8:50 a.m.
Firefighters in northwest Nevada are bracing for dry, hot winds and the possibility of erratic flames as they battle a series of wildfires that have charred almost 75 square miles of rangeland.
 
Incident commanders predict humidity in the single-digits Tuesday in the Virginia Mountains, with wind gusts up to 45 miles an hour.
 
The Pyramid Lake Paiute Tribe town of Sutcliffe is no longer threatened, but residents in some rural areas have been told to prepare to evacuate quickly if necessary. The lake is closed.
 
About 800 firefighters are battling the fires, which are roughly 40 percent contained.
 
About 50 miles north, a wildfire in the scenic Poodle Mountain Wilderness Study Area has burned nearly 8 square miles.
 
___
8:25 a.m.
 
Crews overnight got a bit more control over a stubborn wildfire in California's Central Valley.
 
The blaze has destroyed three homes and is threatening another 400 northeast of Fresno as it heads into its second week. It also has burned two other buildings.
 
Authorities said Tuesday that firefighters increased containment to 30 percent.
 
The California Department of Forestry and Fire Protection says about 300 people were under evacuation orders from homes just outside the Sierra National Forest.
 
The 4.5-square-mile blaze started Saturday afternoon in steep, rugged terrain.