Salisbury Fridays at Five event starts August 26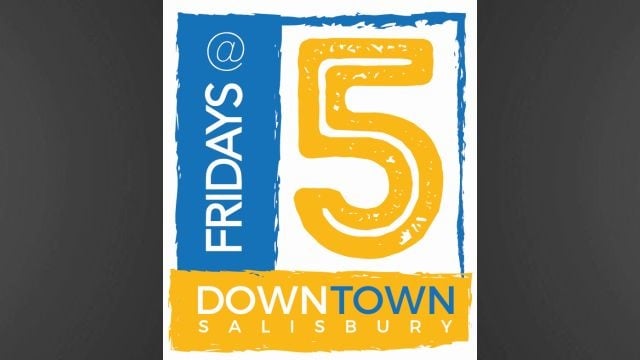 SBY Friday at Five in Downtown Salisbury starts this Friday, August 26.
The event will take place from 5-7 PM in the block of North Division Street between Main Street and Church Street. The road will apparently be blocked off to make room for cornhole, can jam, and many other games.
Event organizers say that local beer and wine selections will be available, and there will be live music by Tops Cut Off Productions.  
This SBY Friday at Five also apparently is at the same time as Salisbury University's first Feature Friday at The Brick Room. This will be a monthly series that highlights Salisbury University's finest faculty and staff, with a new guest speaker the last Friday of every month.
This month's Feature Friday is a highlight on Dr. Jeffrey Schoyen, Salisbury Symphony Orchestra music director and renowned cellist, and he will perform and discuss the history of the cello and early music, and his programs.
Here are some more specials and events that will be happening:  
Olde Towne Deli, Downtown Salisbury's brand new eatery will be open until 7pm for the SBY Fridays at Five crowd, and the downtown restaurants will be ready with food specials and live entertainment.
The new Downtown Salisbury Welcome Center will be open with info and menus for area shops and restaurants, and cool Salisbury branded items for sale.  
Brew River will have live music at the Dock Bar by Clean Getaway from 6-10 PM and DJ B-Side late night.  
Roadie Joes is hosting Drums Around the World on the patio from 5:30 – 8:30 PM, followed by their Pokémon Party Cosplay Contest from 10 PM-2 AM, with music by DJ Rusty Griswald and prizes.
Headquarters Live will have Dueling Pianos, with tickets available at the door for only $10.   
Market Street Inn will have live music late night by DJ Juan and Mojos will have DJ Vibe spinning all your favorites.  
Mayor Day said "Our community has fallen in love with 3rd Fridays. As Downtown becomes a part of everyone's life again, we want every visit to Downtown to be filled with activity. With Fridays at Five, any visit to Downtown or worker leaving Downtown at the end of their week will always find a celebration in the streets every Friday evening."
The Salisbury Arts and Entertainment District and The City of Salisbury says they are pleased to introduce this new weekly event to Downtown Salisbury.
For more information visit their Facebook page.