Aug. 26 – Responsible Dog Ownership Day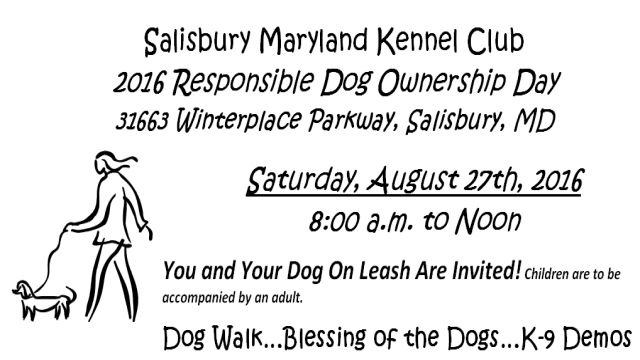 The Salisbury MD Kennel Club will host its annual Responsible Dog Ownership Day (RDO Day), on Saturday, August 27th, from 8:30 a.m. to Noon, at its Training Center at 31663 Winterplace Parkway, Salisbury.
Everyone is invited to participate. Dogs on leash with current vaccinations are welcome and may join in the fun of trying agility, a rally course, and take part in a parade of rescues and adoptees. A highlight of the event, with everyone invited, is the Blessing of the Dogs at 9:15 a.m.
It is followed by the Salisbury MD Kennel Club Charitable Trust Dog Walk at 9:30 a.m. Walk registration is between 8 and 9:15 A.M. Dog and handler $20. Proceeds will benefit the purchase of protective equipment for Police K-9s, heat alert and door release systems for K9 vehicles, as well as small animal oxygen mask kits for fire departments in the Lower Eastern Shore counties.
At 10:15 a.m. the Wicomico County Sheriff's Department will give a K-9 demo. Meet the Breeds Parade at 10:30, followed by Obedience, Rally, Agility and Freestyle (Dancing with your Dog) demos; and at 11:45 is the Parade of Rescues & Adoptees – Bring your pet on leash to participate!
Ribbon & Certificate awarded to each participant!