Sc. woman wins blueberry baking contest at state fair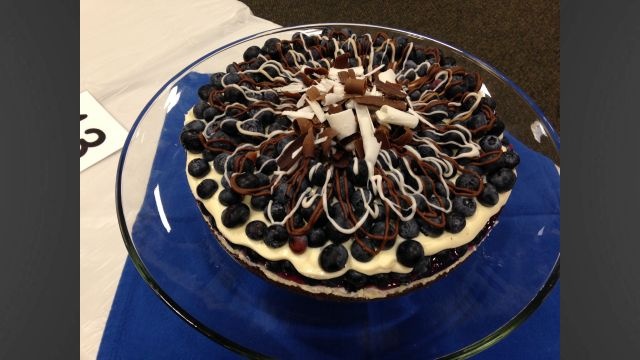 A South Carolina woman has won $100 and bragging rights after her blueberry-inspired dessert was crowned as the winner in this year's Blueberry Blowout contest.
The contest, held at the Delaware State Fair, is a competition for dessert chefs and bakers to bring their best to the table.
This year's winner, Anna Marie Horning, is from Landrum, South Carolina. Horning was one of 23 entries which ranged from cupcakes to tortes and everything in between.
Ultimately, Horning's "Blueberry Bling Torte" (pictured above) stole the judge's hearts.
Barbara Ellis, a helper at the contest, says judges look for more than just a delicious dish. Presentation is just as important, Ellis says.
"A nice presentation, it's got the blueberries on the top or wherever," she explains. "But that doesn't necessarily mean they'll win. It's just that they look good."
The contest was sponsored by District 35 Representative Dave Wilson.