Pancake Mix and Cake Mix recalled for reports of E. Coli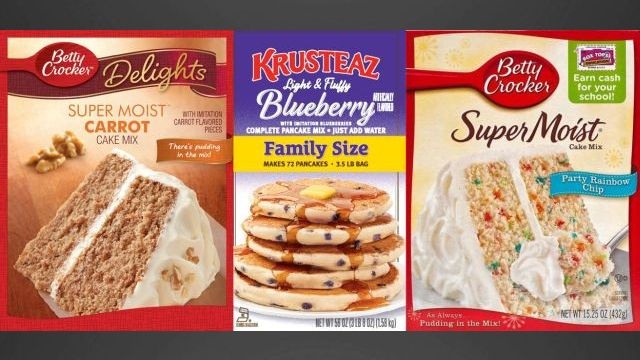 A local grocery chain has announced a recall of blueberry pancake mix, and cake mix due to some E. Coli concerns.
Giant Food has decided to pull Krusteaz Blueberry Pancake Mix, and Betty Crocker Super Moist Cake Mix off the shelves following a recall by Continental Mills and General Mills due to the potential contamination with E. Coli.
The following product is included in this recall:
Krusteaz Blueberry Pancake Mix, 28 oz., UPC 4144900128 with Best by Dates of 3/30/2018 through 6/16/2018
Betty Crocker Delights Super Moist Carrot Cake Mix, UPC 1600040987 with Better if Used by Dates of 12APR2017 through 14APR2017; 28MAY2017 through 30MAY2017 and 07JUL2017 through 08JUL2017
Betty Crocker Delights Super Moist Party Rainbow Chip Cake Mix, UPC 1600040997 with Better if Used by Dates of 25MAR2017, 28MAR2017, 28APR2017 and 23MAY2017 through 25MAY2017
Officials say that although most strains of E. Coli are harmless, other can make you sick. Officials then explain that E. Coli 0121 is a potentially deadly bacterium that can cause bloody diarrhea and dehydration and seniors, the very young, and persons with compromised immune systems are the most susceptible to foodborne illness.
Those who have purchased the Krusteaz pancake mix listed above, should throw away unused portions and may bring their purchase receipt to Giant for a full refund.
Questions about the recall can be directed to Continental Mills at 1-800-457-7744, General Mills at 1-800-230-8103, or Giant Foods Customer Service at 888-469-4426.