Officials to hold rabies clinic in Wicomico County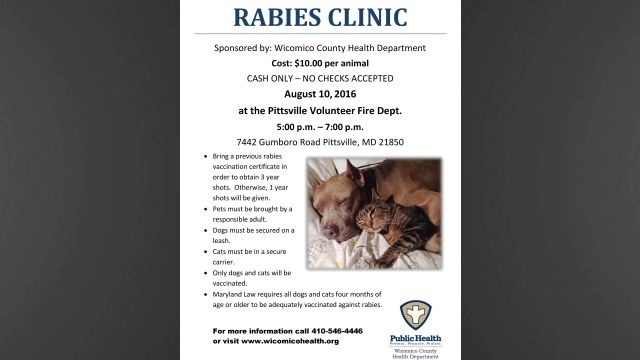 Wicomico County has announced that their health department will be holding a rabies clinic after a rabid fox was found last week in Parsonsburg.
The clinic will be August 10th from 5 to 7 P-M at the Pittsville Volunteer Fire Department.
The cost is $10 per animal, and only cash will be accepted.
The health department has a few additional requirements:
Bring a previous rabies vaccination certificate in order to obtain 3 year shots. Otherwise, one year shots will be given.
Pets must be brought by a responsible adult.
Dogs must be secured on a leash.
Cats must be in a secure carrier.
Only dogs and cats will be vaccinated.
Also, as a reminder, Maryland Law requires all dogs and cats four months or older to be adequately vaccinated against rabies.
For more information visit the Wicomico Health Deaprtment's webiste.